Before
After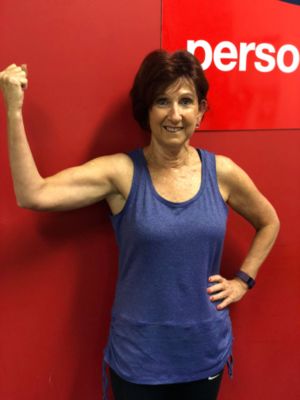 I'd been to gyms in the past but none made me feel connected and I certainly didn't feel like someone of value. I joined Vision after seeing the change in a work colleague so I thought I'd check out one in my local area. I felt that I had gone into a bit of a slump in terms of health and motivation. I had been working long hours and as a teacher, needed the energy to keep up with all that goes with working with teenagers. My goal in terms of exercise was really to lose 5kg but more importantly to use exercise as prevention for some of the issues of older age like bone density (I plan to live to 103 so I need to really work on this!).
I lost the 5kg I wanted to lose and then lost another 2kg. In terms of fitness, I feel stronger than I have felt for as long as I can remember. I know I am more toned but it's what's going on inside that is my number one priority. The recent Bioscan revealed a few action steps I need to take and while my "biological" age was younger than my actual age (and that's a good thing!) it was good to see in black and white the areas where I need to concentrate for long term health.
Increasing my knowledge of what foods are best for me has helped me have some structure to meal planning. One of my greatest pleasures is sharing meals (and wine) with friends and family but I know my food choices now add to my feeling of wellbeing and physical health long term.
Another achievement that has been a positive for me is just sticking at it and coming to classes regularly. The Vision culture is very appealing where not only the trainers encourage you but so do the other clients. It's wonderful to walk in and everyone is so welcoming, friendly and interested in you as a person.
I've always been fairly small so it is easy for people to say that you don't need the gym. But when you are smaller, just carrying an extra few kilos makes a difference to how you feel. Also, coming to Vision and being accountable to my fabulous trainer Jack, has been good for my overall wellbeing. It is proven over and over again about the benefits of exercise to mental health and I see this benefit in my every day.
My long-term goal is to have a happy and healthy future. I want to be around to have the energy for my Grandchildren and really just to live life to the max. I enjoy going in Fun Runs (not so much for the run but for the fun) and feel a sense of achievement after taking part in any event like this. But really, my goal is to just continue feeling stronger, feeling accountable and confident, and just feeling good about myself.
Sylvania Success Stories
Our holistic approach to emotions, education, eating and exercise has transformed thousands of people across Australia & New Zealand. Get inspired by the journeys of your latest clients.
Are you our next success story?
Give your goals the greenlight and join us. Book your free consult now.