Before
After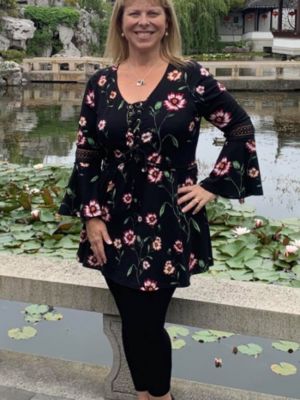 I have always had a weight problem but 2017 was a big year for me. I was at my heaviest weight and my mum passed away in May from Pancreatic Cancer. I was stressed, miserable, depressed, in a lot of pain and very sick. I had made a promise to my mum to start looking after myself and to make my health a priority.
Well it wasn't until November before I decided enough was enough. I booked in for Gastric Bypass Surgery as my doctor advised this was the best solution for me with all the medical conditions I had. I knew this wasn't a quick fix, it would be extremely difficult and a massive adjustment with my food and exercise but it has been the best decision I have made. I managed to lose 41kg without any exercise (I didn't like exercising.) I knew that I needed extra help to tone up and lose more weight so I plucked up the courage and joined Vision Personal Training as I prefer to have a Personal Trainer who keeps me accountable with my food and exercise. I was never going to go to the gym if I had to do it on my own.
Since starting at Vision in July 2018 I have lost another 14kg. I have gone down 7 clothes sizes in total and I love shopping now. I am a totally different person, I am happy, healthy and finally loving life. My results would not be possible without the continued support and encouragement I receive from my trainer Jamie and the Vision Sylvania Team. Who would have thought I would be going to a gym and training with my son! Jamie has been so encouraging and supportive with my journey.
I have always hidden my weight from my family but not anymore. They can't believe how happy and confident I have become. I am finally able to participate in all the activities that I have missed out on because of my weight. I have a goal to walk the Great Wall of China something I would have never thought possible with my knee and back pain carrying so much weight. Walking up one flight of stairs was exhausting and painful.
I have new sayings "I can and I will" instead of "I can't" and "Nothing tastes as good as being thin feels". I have lost 55kg so far with another 15kg to lose and I know with Jamie's help and encouragement and the support from the Vision Sylvania team I will achieve this goal.
Sylvania Success Stories
Our holistic approach to emotions, education, eating and exercise has transformed thousands of people across Australia & New Zealand. Get inspired by the journeys of your latest clients.
Are you our next success story?
Give your goals the greenlight and join us. Book your free consult now.