325g Broccoli

1 Litre Real Stock Chicken

20g Garlic

250g Leek

10g Thyme

2 Tsp Olive Oil

70g Parmesan Cheese

3 Serving Pearl Barley

1 kg Butternut Pumpkin
Method
Preheat oven to 200 degrees. Line a baking tray with non-stick baking paper.

Place the pumpkin in a single layer on the tray, and spray with olive oil spray. Season with salt and pepper. Bake in oven for 1 hour or until tender.

Meanwhile, bring the stock and wine jus to the boil in a saucepan. Reduce heat and hold at a gentle simmer.

Heat the oil in a large saucepan over medium heat. Add the leek and garlic and cook, stirring often, for 5 minutes or until the leek is soft.

Stir in the barley and thyme.

Add a ladleful (about 125ml) of the simmering stock mixture to the barley mixture and stir constantly with a wooden spoon over medium heat until the liquid is completely absorbed.

Continue to add the stock mixture, a ladleful at a time, stirring constantly and allowing the liquid to be absorbed before adding the next ladleful, for 30 minutes or until the barley is tender.

Add the broccoli with the last ladleful of stock mixture and stir to combine.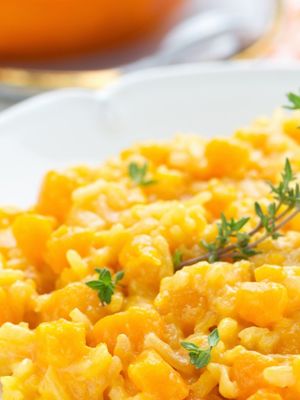 Discover more recipes on MyVision
MyVision provides members with hundreds of recipes which are easy to prepare and are suitable for the entire family.
Join us today and you'll have access to more great recipes like this.