Before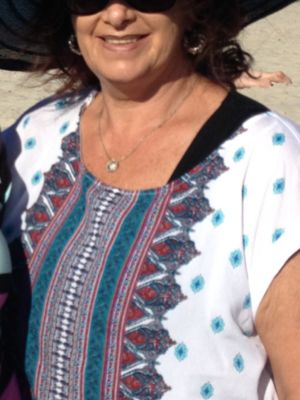 After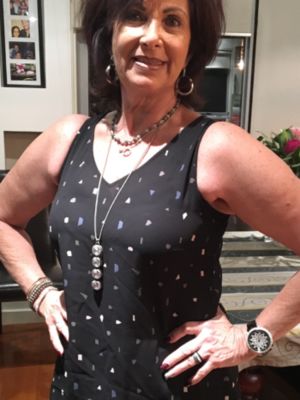 Tell me about your life before Vision?
Throughout my adult life, living in South Africa I trained with a PT but here in Australia I participated mostly in group training. In fact, in SA I often filled in for my PT trainer when she was away and instructed the aerobic and stretching classes. I must admit though that training has advanced so much that I would be way out of my comfort zone trying to do that today.
I moved with my family to Australia 8 years ago and slowly started packing the weight on. I was overwhelmed by the vast variety of breads, chocolates, unhealthy and just new choices, and before I knew it I had gained over 14kgs. I just kept purchasing new clothes to accommodate the weight gain until one day my sister Sharlene who was and still is a Vision ambassador invited me to come along and chat to the great trainers at Vision. She promised me that I wouldn't have to sign up right away, however there was no getting past Nathan Weidemann without signing up as a member. And so, my journey began.
Before joining Vision, together with my daughter Mandi we tried Curves, Re-Creation, Gesac, Fitness First and others but there was no personal contact and no noticeable improvement and we got bored with those gyms. So, I joined Vision and brought Mandi with me.
What results have you achieved?
I am so pleased with what I have achieved since joining Vision. I have dropped all the weight I picked up since moving here. I feel fitter and more energetic than ever before. I have never participated in any running events always being afraid that I would never be able to complete an event and have now completed one 5km and two 10km runs with Mandi and even had my oldest daughter run with us when we did the Run for the kids. My middle daughter has joined us at Saturday morning boxing very often but now baby number 3 is on its way.
How has life changed for you?
Health and fitness have taken on a completely new meaning for me. I thought I knew it all but what a shock when I realised how much I had to learn. It was not only the more complicated information around health, fitness and training that I had to relearn but even change the stereotype that chicken and sweet potato were not only dinner food but could also be adapted into the macros to become breakfast, mid-morning and even mid-afternoon meals. That was a big change for me. I have gained so much knowledge from my trainer Daniel Tramontana (I don't want him to get too much of a swollen head) but he has taught me so much. When my previous trainer, the beautiful Dee left Vision we spoke about where I would go and I was a little scared to train with Dan and didn't think he would take me. He was a bit big and scary and I was a little nervous. BUT despite the big guns Dan is just a big soft teddy bear. He is a professional in every sense of the word and his knowledge in fitness and nutrition is amazing. He is caring, compassionate and empathetic and (despite the fact that sometimes he thinks I can train in the middle of the night - 7am) he never gets tired of answering my questions over and over and over. I mean where else would your trainer actually write up your food diary for you! Epic, right! Thanks to Dan, I am now well equipped to support my daughters and their husbands in their healthy lifestyles and facilitate healthy food choices with my grandchildren. I can allow them treats that are healthier and be the Vivi (as they call me) who allows treats that aren't always sweets.
My family know that Vision is my happy place. It's the only time of the day that is about me and where I am able to put myself and my needs first. I am excited every day when I walk up those stairs to begin my day. I have so much more energy and am so enthusiastic about my training. I am in my sixties and feel fitter, stronger and more confident than ever before.
In a very big way Vision has saved my life. Due to a minor injury in the gym 4 years ago and after countless physio sessions which led to x rays and other investigations etc the doctors discovered carcinoid tumours in my lungs which we may never have discovered until it may have been too late! Two operations later I am fine and well and still enjoying training.
What is your favourite thing about training at Vision?
I love the training and I love the personal contact with my trainer. I love that I am able to discuss any topic with Dan and I value his knowledge, advice and input in whatever we may be talking about. His care and concern are always on point and he is attentive and so tuned in to my abilities and strengths and the parts where I struggle. I could not have achieved these goals without Dan's 100% encouragement and motivation.
Another big part of the fun is the group training where we enjoy the classes together with the Trainer. Every client in the studio is on their own journey and we are all travelling our journey's together. We chat about our families, our food diaries, our trainers our holidays and everything else whilst walking those treadmills. It's a lot of fun. I have made many new friends in the studio and we all help and support each other.
I have achieved goals and events together with my daughter Mandi and that is so special. We are a strong mother and daughter team and I know that Mandi values this special time we share together just as much as I do! Vision is our thing! I love that we are boxing partners even though she's taking a break to join run club to train for her next Marathon. There is a saying that people who train together stay together, that is us Mands! The benefits are endless!
What advice would you give to someone in a similar situation to where you were, and is thinking about making a change?
My advice would be, go for it and don't wait. There is no gain without change. If you put your mind to it you can do it. It's not always easy, there are difficult days and even more difficult days but once you start there is no stopping. It's all about choices and every little change for the better is another chance to improve your health. Involve your friends and family and start the journey to improving your lifestyle.
I have not looked back since joining the very special team at Vision PT Brighton!
Brighton Success Stories
Our holistic approach to emotions, education, eating and exercise has transformed thousands of people across Australia & New Zealand. Get inspired by the journeys of your latest clients.
Are you our next success story?
Give your goals the greenlight and join us. Book your free consult now.