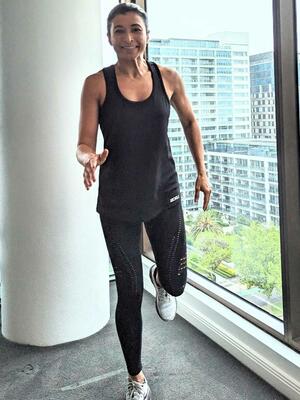 Tell me about your life before Vision. I had been exercising for a while on my own and with personal trainers but I never really understood the importance of nutrition and macros made no sense to me. Consequently, I never really made much progress. I've never been a particularly large individual and I don't think my precious trainers took my lack of muscle mass as a great concern. I was always told to cut down on carbs and I was never going to do that.

What Results have you achieved? Since joining Vision, I have lost inches off my waist without losing much weight because my muscle content has increased. I've changed shape which many trainers didn't think was necessary although I was constantly pushing for it. At Vision, I feel my concerns are heard and dealt with in a sustainable manner.

What is your favourite thing about training at Vision? My favourite thing about Vision is is the community and the camaraderie. I have a great relationship with all the trainers and they're all approachable, helpful and friendly. I've also made some fabulous friends who I intend to keep for the rest of my life.

What are some defining moments during your journey? Seeing my stats change, slowly but surely, over time. I didn't think I'd get the results I've got, truth be told. I thought I'd make minor changes for a short time but I've managed to come to the studio, consistently for 5 to 6 days a week for 10 straight months. That is a world record for me.

What advice would you give to someone in a similar situation to where you were who is thinking about making a change? Listen to your trainer! You're paying for their expertise and time, they know what they're doing. Trust the process and consistency is key.
Prahran Success Stories
Our holistic approach to emotions, education, eating and exercise has transformed thousands of people across Australia & New Zealand. Get inspired by the journeys of your latest clients.
Are you our next success story?
Give your goals the greenlight and join us. Book your free consult now.