Before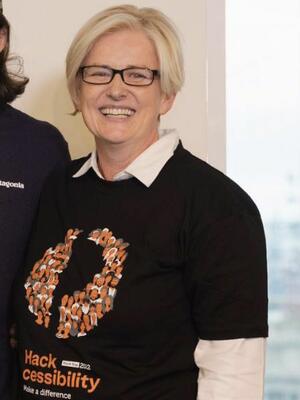 After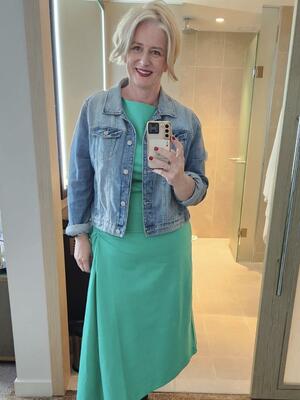 For my journey, I needed intimacy and someone who was going to stick up for me and support me in building new strategies that would challenge my negative self-talk and the ridiculous rules around food that had been ingrained. As a high performer, failure is hard. Shame and tough love aren't tools that support or motivate me, neither is pity.

I found the right combination of human and expertise at the top of the stairs at Vision PT Prahran which has empowered me to achieve my goals.

I wasn't looking for a fast fix. My experience was that this would be nice but most likely unsustainable. I equally wasn't looking for a group of people that "looked like me". I was looking for somewhere I wasn't "just a membership"; a place that had structure but didn't approach my journey as if was the same as everyone else's. 

The reviews mentioned personal understanding and commitment from the trainers to individuals. I hit the enquiry button.

It was March. I started in late November. Hesitation in initiating personal change is not uncommon. Luke's engagement style in those months was personal and built confidence in me that he was understanding and would be there for me.

I was having a hard time starting which was compounded by having Covid and significant, personally impacting change at work. Samir and I later discussed and agreed that the first 9-week session is often learning as you challenge old habits and form new ones. Jerome made it real and made me smile, when he said, "if I wasn't pushing you to achieve your goals, then I'm just a very expensive friend".

My success to date is mine. My self-talk and healthy lifestyle strategies are still not fully where they need to be, but I am confident that I am making the right steps and I now have the best co-pilot in Austin. Austin's technical skills are unchallenged, but it is his incredible human intuition and drive to be someone who powers others to make sustainable change that is what I need. He knows me. He adapts and encourages me where and how I need to. There are moments when I fail my expectations and he reminded me that, no matter how small, each step in the right direction is a good one. He's right. 

The best way to climb the stairs is one step at a time.

Being unfit is not simply a physical thing. For some, and I am one of them, not being as fit as I would have liked to be created a loud internal dialogue. This dialogue over-emphasises self-awareness and can manifest itself in conscious, but equally unconscious behaviours.

Black and loose clothing fill the wardrobe. Cushions and throws can become your companion on seats and couches. Even an unconscious slight tugging at clothing is constant and it may be poorly fitting physically, but more likely it's mentally. These behaviours become our safety blankets to protect us from others who may judge us as we judge ourselves.

Away from the security of home, when you are leading a team, you have no option but to stand in front of them and present. I was becoming increasingly anxious about these moments. Black became my armour.

In recent years, I loathed seeing myself in team photos and shied away from posting them on LinkedIn.

This year I was asked to be a panel moderator at SXSW. It is an incredible honour to be part of such an industry event with global reach. It was a "hell yes", but I was anxious. Past insecurities and inner dialogue do not erase easily.

I reached for a black outfit but was rightly encouraged to wear the current season green. I felt comfortable in my skin and enjoyed sitting in front of the audience talking about my passion. I woke to the text from one of my peers from the panel, "You absolutely nailed it, Fiona. Your eloquence and grace shone through amazingly". This is a far distant place from where I was twelve months ago.

I have created space for me and my health. 
This season my wardrobe will be overflowing with colour and as I start a new role and introduce myself to a new team. There is no inner dialogue, only confidence and excitement. I will stand in front of my new team, and they will get to see and experience the real me. The first photo of me is in May 2022 and the second is recently in October of 2023

Over the last 9 weeks, as I experienced moments of extreme personal stress, my historical behaviour would have been to sacrifice my time to where I believe that it was most required. This was never me.

I had committed myself. Walk like Forrest Gump, increase my protein with a focus on a reduction in body fat and persist with my in studio routine.

It may have been "easier" to put meals together without consideration of the macros and grab a glass of wine instead of my walking shoes … but the truth is that this would impact me both physically and mentally and meant that I wasn't there for those who needed me.

At the 6-week mark, there were tears, because my stress had me wrongly revert to poor definitions of success – just the scales. The weight remained the same for several weeks. Although this was an achievement, given the circumstances, I felt I was letting myself down.

Austin caught my tears and ensured that I focused on the bigger picture.

As I reviewed the results of my body scale and looked at the achievements in these 9 weeks, given my journey, they are awesome and I couldn't be happier. Body fat down. Muscle mass up. Weight down and I exceeded by km target by over 30% completing no less than 330km in 9 weeks against a target of 250km.

This came just as I was presenting on a global stage with renewed confidence in my green dress.

Space for me is growing. The foundations are being laid and I am reaping the rewards.

Create the space. There is only an upside. With each step, the climb to the top gets easier.

Prahran Success Stories
Our holistic approach to emotions, education, eating and exercise has transformed thousands of people across Australia & New Zealand. Get inspired by the journeys of your latest clients.
Are you our next success story?
Give your goals the greenlight and join us. Book your free consult now.