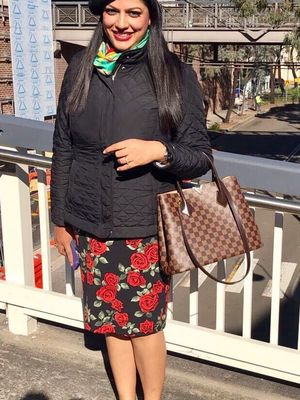 Moving to Australia four years back, I let myself go - bingeing on fries, raisin toast, pancakes, pasta and Lindt shakes. I had a safe and predominantly black wardrobe to envelope my folds, an occasional fluttering in my chest and a couple of health scares, an aversion to getting weighed and writing my weight on any form, no energy post 4pm daily, and pretty much huffing and puffing up even a single flight of stairs. It all had to change but the expert procrastinator I am, it was always going to start 'next week.'
And then one day it happened - a taxi driver asked me how far along I was in my pregnancy - I was mortified (as I wasn't pregnant), tired and angry with myself, and decided that I didn't want to be a size 18 anymore with a lifebuoy around my stomach - it really wasn't cool.
Accountability, Balance and Consistency were the ABCs I was looking for, and when a friend recommended I check out Vision Pyrmont, I came for a quick visit. Jerome and Joel spent time with me to answer all my (numerous) questions, and I was assigned Laurice as my Personal Trainer. The first few days were discouraging - and I almost quit - embarrassed that I hadn't 'rung the bell' even once - I just wasn't shedding ANY kilos. However, lovely Laurice persevered - with kind words, her gentle (but firm) steering, keeping me on track and motivated, and developing a revised workout - slowly the unthinkable happened - the stubborn kilos started getting knocked off. The Vision Trainers are an incredible, extended family for me - they know everyone's names, cheer you on when you achieve a target or try something new, check up on you when you (slyly) decide last-minute to skip Saturday runs. What also sets them apart that even though you have an assigned Personal Trainer, the other trainers are also invested in you, instead of just focusing on their clients. It's been a tough journey and I'm still on it - however, I'm getting there - with the fantastic team members at Vision who genuinely want clients to achieve their fitness goals.
And yes, today, I do have quite a bit of colour in my wardrobe, can shop at all stores as they house my size (14) and bet I can race you to the top of the stairs (and back). Thank you Vision Pyrmont team for changing my life.
Pyrmont Success Stories
Our holistic approach to emotions, education, eating and exercise has transformed thousands of people across Australia & New Zealand. Get inspired by the journeys of your latest clients.
Are you our next success story?
Give your goals the greenlight and join us. Book your free consult now.