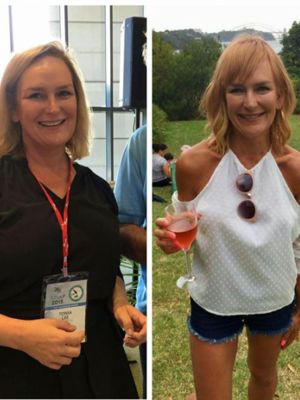 That "before" photo was the turning point for me. I had been separated from my now ex-husband for a couple of years. Since the break-up, I had completely focussed on my two little girls, making sure they got through this difficult time with as little stress as possible. Making sure my career didn't suffer at the same time. What I forgot about was me. I was at a work conference when this photo was taken. I could not believe how much weight I had put on and how unhealthy I looked. I spent my nights sitting on the couch once my girls had gone to bed. Watching TV and eating ...that had clearly taken its toll. They say you are what you eat, so I was a very, very large packet of salt and vinegar chips. I enrolled in a 24/7 gym, I would try and go a couple of times a week. My girls would sit in the common area and read or do their homework while I tried to figure out how to use an array of scary looking machines. A few weeks in, and with no improvement seen or felt, I got a call from management informing me that I was breaching gym policy by bringing my girls into the gym and that they could and would take legal action. I left and never returned.
I called Nic asking, "If I were to join Vision at Gladesville, would my girls be welcome?" Nic said yes, I signed up and that was the day my life changed. My Vision journey has been incredible. When I started, I was shy and very quiet. I was too nervous to participate in classes and didn't mix with other members. Not because they weren't friendly or welcoming, but because I was not confident with myself. My Trainer was encouraging, it didn't take too long before I joined Boxing, X-Training, Bottom Line, Run Club and everything else that was on offer. I am proud to say that, the shy couch-potato-chip-eating mummy in her late 40's was the first person to attempt what we call The Trifecta on Saturday - three classes in a row - Run Club, X-Training and Boxing at Gladesville. Now everyone is doing it. I was never a sporty person, but since joining Vision I have participated in The Colour Run, Blackmores, Tough Mudder and Spartan. Who would have thought! More importantly, I have made so many incredible friends. Friends who will be special to me forever. My Trainer Natalie is such an inspiration and she really 'gets me'. She knows just what I need. She knows how to motivate me, inspire me and push me. Every session is filled with laughter and giggles and a good sort of pain. I have lost 23 kilos since I started my journey. I am so confident and happy with myself. My two girls love going to Vision and, unlike the old me, they have no fear of gym or exercise. It's just something we do. One thing I had never done in my entire life was wear a pair of shorts. Well, on NYE, Amanda (who I met at run club) convinced me to buy a pair. I now look at the "after" photo and feel so grateful that the 24/7 gym wouldn't accept children. That Nic was so accommodating. That Natalie and I work so well together. That I motivated others and that I have met such wonderful people. People, who like me, want to be the best that they can be. Who want to teach their children that exercise is not scary, that gyms don't need to be intimidating and that YES - damn it feels good to put on a size 8 dress and feel 'sexy' Even when 49 is just around the corner.
Gladesville Success Stories
Our holistic approach to emotions, education, eating and exercise has transformed thousands of people across Australia & New Zealand. Get inspired by the journeys of your latest clients.
Are you our next success story?
Give your goals the greenlight and join us. Book your free consult now.