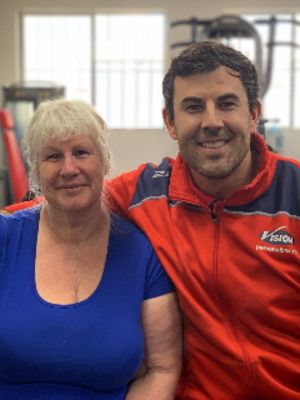 It started around the Melbourne Cup on 7th November 2017. I got on the bus 314 and as I tried to sit on a seat that was for people with prams and disabilities, I fell off balance and fell to the floor. The fall was really hard and I injured myself badly. After I struggled to get home, I had to stay in bed for 2 days, my legs were full of bruises and my confidence to go out had dropped significantly. Later that week I went to see a physio and they suggested coming there for a few more sessions and after that I should seek the help of an exercise professional to help with a program.
This is where Vision Bondi Junction came into my health story. One day I thought that they might be able to help so I made an appointment for a consultation and got started on the spot. Since that day I have worked with my trainer who has changed my perspective on exercise and nutrition.
We have worked together on creating food plans as well as a range of strategies to make things easy and convenient to suit my lifestyle. This approach has helped educate me on portion sizes, healthy choices and how to manage occasions like eating out or at parties. The training has been created specifically to improve my leg weaknesses to become stronger and more balanced in my everyday life.
It has been an amazing two years at Vision. Keeping me accountable to a routine has seen real results in not only how I look with less body fat, but how I feel. I am now confident to move around outside without any issues and I am now living a life that I absolutely love!
Bondi Junction Success Stories
Our holistic approach to emotions, education, eating and exercise has transformed thousands of people across Australia & New Zealand. Get inspired by the journeys of your latest clients.
Are you our next success story?
Give your goals the greenlight and join us. Book your free consult now.