Before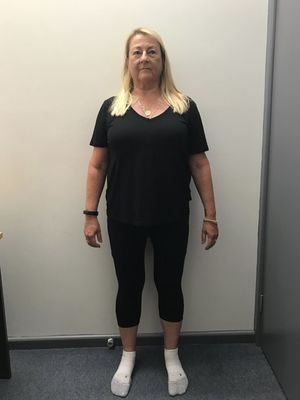 After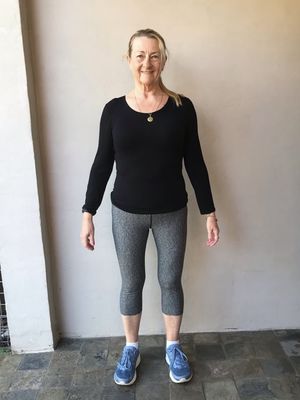 "Over the years I've been on that roller coaster ride of being fit and then being overweight and everything in between. If anything came along to set me off course, like a small injury, or a hectic work load, I would give up altogether. After a year or so of hip niggles, COVID-19 and what a great excuse to let it all go! Suddenly it's Summer 2020 and I found myself unmotivated and 15kg over where I would like to be. I was very unhappy in myself and couldn't keep the word 'blah' out of my head, because that's exactly how I felt about everything.
My sister first suggested Vision as she had been a member a few years ago and thought it would suit me (and she was sick of me being blah) At the same time, I had seen repeated Facebook posts from a friend about Vision Bondi Junction and it seemed like everything was pointing me in the same direction. I joined in Feb 2021 not quite sure how successful I was going to be and if I would be able to get my 'head in the game' to go on that weight loss journey again.
I met my trainer Giuseppe and we set up my first goal to lose 5kg during the 9-week challenge. In addition to PT sessions twice a week I started doing group training sessions (which are great fun) and a healthy eating seminar and supermarket tour introduced me to macros in food which I'd never considered before. This was a new way of eating/meal planning for me, and tracking through the app and ticking off your achievements is actually quite satisfying.
Giuseppe has been so supportive and encouraging and somehow even got me to give up drinking … almost. All these things combined helped me lose around 10kg during that first challenge and since then I'm down another 5kg. So, I've pretty much reached my goal weight, back to feeling like me again, and looking forward to setting new different goals.
The difference with Vision is the total approach, it offers the whole package from education in food and nutrition, great trainers with engaging exercise, information on mindset and goal setting and an amazing supportive community backing it all up. Everyone in the gym is so friendly and encouraging and it's somewhere you really look forward to going to." - Susan Murray
Bondi Junction Success Stories
Our holistic approach to emotions, education, eating and exercise has transformed thousands of people across Australia & New Zealand. Get inspired by the journeys of your latest clients.
Are you our next success story?
Give your goals the greenlight and join us. Book your free consult now.