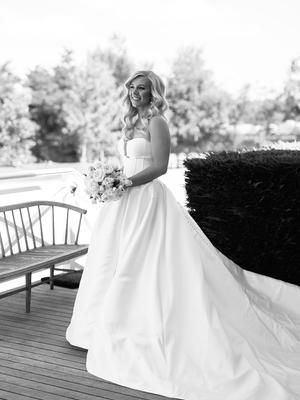 The morning I joined Vision was the day I got engaged. I knew that I wanted a decent lead up to the wedding. I don't believe in crash diets and losing weight quickly to get impressive but short-lived results. I always knew I wanted foundational steps to create a lifestyle that was realistic and sensible.

With the wedding in mind, I had specific goals I wanted to reach:
Lose 10-15kg.
Look more amazing than I ever had before.
Be more fit than I ever had before.
Be a size 10.
Mostly, I wanted to feel great, fit, healthy and strong on my wedding day.
The morning I started at Vision, I was so scared, nervous and so serious. Physically I felt, weak, injury prone, poor posture and overweight.

Mentally, I felt sad at where I had let myself get to, frustrated at not being able to solve weight loss by myself. I also felt confused at what to next. I was scared to start Vision because I knew I hated class exercises as I always felt I got left behind.

In the beginning, I wanted to just be strong! I wanted to knock out 20 push-ups anytime, anywhere. I quickly learned that gaining strength takes time and can't be rushed. My first set of push-ups was a humbling experience.

In the beginning I promised myself I would try all the classes at least once. To my great surprise I enjoyed them all. They weren't like any gym classes I had experienced before. I always got special attention, the instructor would correct my posture and provide personal words of encouragement. It wasn't long before my trainer asked if I would try learn to run club. I always thought I couldn't run because of my lower back issues but to my great surprise I could and soon graduated to run club.

It didn't take long before I started to notice some changes, first there was the fat loss, then it was little muscles starting to show in my arms and legs and then everywhere. My lower back and hip issues were completely gone (thanks bottom line!).

About halfway through my program, wedding date looming, I wanted to step things up. I had a nutrition call with the trainers, and it changed everything. I tightened up my food tracking and switched out some habits that were not hindering my success. One of which was eat more! From this call onwards it was a game changer, the weight came off in an even staggered amount and it almost felt effortless. The scales kept trending down and I was smashing my fitness goals.

By the time the wedding weekend rolled around, I was eating bread and drinking wine with my family. There was no need to restrict or deprive myself in the days leading up as I had learned from my time at Vision how to have balance. I knew I had done the work and now it was time to be present and enjoy myself. I had also achieved all 5 goals previously stated.

On the morning of my wedding I went for a 6km run and did a quick 15 body weight workout because I knew that this would relieve some excited tension, help me to be present and focused throughout the day. I felt so beautiful in my dress, strong and confident. I honestly wouldn't change a thing.

Looking back there were many challenges I had to overcome. Injury, lack of self-confidence, getting sick, dealing with stress, balancing a social life with weight loss goals, going away and missing sessions and not meeting goals. For all these challenges, I first had to experience them and then I learned from them. Some took longer than others but each time I had a step back, I got to make a more enlightened step forward.

My Vision trainer has been everything. The feeling when you walk in and everyone says hi to you, it's the best start to the day. The constant care for your wellbeing, injuries, food tracking, goal setting, life events just everything. It's all outstanding. There is so much knowledge constantly being offered. I have never had this level of care and attention in a fitness environment. Its honestly the best. I feel constantly encouraged and like my success is their success.
Prahran Success Stories
Our holistic approach to emotions, education, eating and exercise has transformed thousands of people across Australia & New Zealand. Get inspired by the journeys of your latest clients.
Are you our next success story?
Give your goals the greenlight and join us. Book your free consult now.