Before
After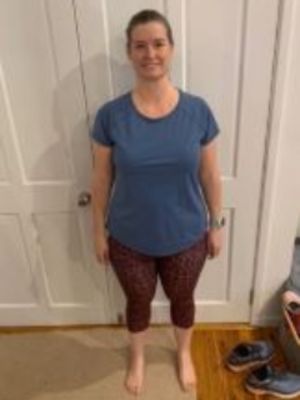 I started at Vision in late February 2020, full of motivation and ready to get going. I didn't have an end-goal in mind. In the past, when I have set a goal weight or target, I have obsessed to the point where nothing else matters, and if (when) I fail it is impossibly painful. This time, I approached Vision with the mindset of 'this is forever, take it day by day.'
Then COVID-19 hit. Gyms close. Work goes crazy. Plus, now I'm also a kindergarten teacher on top of everything else! It would have been easy to take Chris up on the offer to hand in my membership and ride out the pandemic on my couch binging on Netflix and chocolate. Then the next email in my inbox detailed how Chris and his team were pivoting their business and adapting. Zoom 1:1 sessions, group classes, seminars… all from the comfort of my house? I am IN. We scrounged as much gear as we could and turned our loungeroom into our own new gym.
Seeing my trainer, Jordan, by zoom twice a week has been amazing. We have pushed harder, made huge gains, all from home with nothing more than a few light weights and a step. I have joined as many cardio sessions as my schedule allows - so usually 2-3 times a week. The Saturday morning Burner is a non-negotiable, and I find myself looking forward to the mid-week sessions to blow out the cobwebs of a particularly challenging day.
Because of the support of Vision PT Bangor during this time, instead of numbing the stress and worry with junk food, booze, and inertia - I now combat it with raised endorphins and good food. The results speak for themselves. I've lost over 5Kg in my first 9 weeks. But I've also gained - I've gained a community, a purpose, confidence.
I'm not new to gyms or exercise, but this was the first time I've joined a gym like Vision. I still don't have an end-goal, but I know that Chris and his team are there to support me, every step of the way - online, from home, and (hopefully soon!) in person at the gym.
Bangor Success Stories
Our holistic approach to emotions, education, eating and exercise has transformed thousands of people across Australia & New Zealand. Get inspired by the journeys of your latest clients.
Are you our next success story?
Give your goals the greenlight and join us. Book your free consult now.