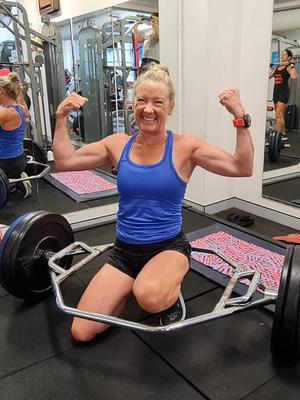 Tell us about your life before joining Vision Personal Training Lindfield?

Before joining Vision in March 2008 I was pretty active, especially with 4 small children, but no organised, regular exercise. I played Squash regularly (prior to having kids) and I have always done a little bit of running, cycling and walking but would struggle to run one lap of Centennial Park (only 4km!)

What was the state of your health and fitness when you started and what affect was this having on your life?
I was keen to get back into regular exercise and spotted someone boxing near the front window of the Vision Studio, and thought I'd like to give that a go. So up the stairs I went and was met by the very affable Mick! And I haven't looked back since.

What results have you achieved at Vision Personal Training Lindfield?

I started regular sessions at Vision and was amazed at what I could achieve, with the help of my trainer I lost body fat, managed to run further and further each week and was introduced to weight training, something I had never done before and I LOVED it!

What did you find was the most useful tool at Vision?

The most useful tool for me is the targeted one-on-one training sessions and having a set time to go , no excuses! It gets you up and cracking and you always feel better afterwards, even if you weren't really looking forward to it before hand!

I also love the group classes and the variety of exercises they offer, and the camaraderie with other gym goers and like minded folk.

What impact has your new health and fitness had on your new life?

My new levels of fitness have given me so much confidence in what I can actually do, I have run numerous half marathons, done strenuous hikes and with the help of my fabulous trainer, Ibi, I have managed to stay relatively injury free, or when I do succumb to an injury have been skilfully rehabilitated .

What keeps you motivated?

Firstly, my trainer Ibi keeps me motivated , and together with all the other fabulous trainers who not only run the Group Training session but extra activities outside gym hours. I love all the extra curricular activities like cooking classes, painting classes, tennis tournaments, soccer, touch football , vineyard excursions, trips interstate to run in events etc. there's always something to look forward to.

What advice would you give to someone that is currently thinking about taking a positive step towards changing their health and fitness?

I would say give it a try , the Vision Studio is much more than a gym, its about exercising, but also educating with numerous seminars on a whole range of topics to do with overall health, fitness, healthy eating and exercising to reduce injury to name a few.

If you were to recommend Vision Personal Training Lindfield to your friends, what would you say?

Over the past 14 years that I have been at the Studio I have met and made some fabulous friends, I have exercised and tried new things and really feel the gym family is a big part of my life now. It's something I look forward to each day and never tire of it. The trainers and staff have really created something very unique and I feel privileged to be part of it. Long may it last!
Lindfield Success Stories
Our holistic approach to emotions, education, eating and exercise has transformed thousands of people across Australia & New Zealand. Get inspired by the journeys of your latest clients.
Are you our next success story?
Give your goals the greenlight and join us. Book your free consult now.