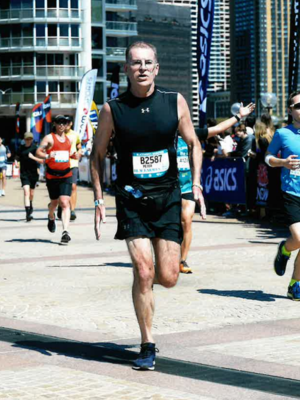 Tell us about your life before joining Vision Personal Training Lindfield?

Family and friends have always been major priorities. I have worked as a barrister for over 30 years. Sport and fitness, which had once been major interests, had very much taken a back seat. Wining and dining were in the front seat.

What was the state of your health and fitness when you started and what affect was this having on your life?

My health has always been good but my fitness had been in a slow decline for many years. It was a struggle to run for the bus. I was concerned that my good health might not continue without some change in lifestyle.

What results have you achieved at Vision Personal Training Lindfield?

I have lost over 20 kilograms and greatly improved my strength, stamina, endurance and co-ordination. I have run 19 half marathons and a lot of fun runs and taken part in team obstacle events such as Tough Mudder. The highlight was the full marathon in under 4 hours in my 60th year.

What did you find was the most useful tool at Vision?

The most useful tool is the personal training. The regular sessions turn training into a habit of mind, they impose discipline and accountability; and they provide motivation when it otherwise goes missing.

What impact has your new health and fitness had on your new life?

Better health and fitness, have decreased the levels of stress and anxiety at work and in other aspects of life. It has also improved concentration for long periods of time and memory.

What keeps you motivated?

The personal trainers and the other people at the gym. There are always new goals to work towards and challenges to meet. The idea that the outcome pretty much corresponds with the effort.

What advice would you give to someone that is currently thinking about taking a positive step towards changing their health and fitness?

Find a way that works for you that makes training an enjoyable habit. Make a plan with small and realistic goals to start and work up methodically from there.

If you were to recommend Vision Personal Training Lindfield to your friends, what would you say?

It is very welcoming, friendly and social and a great place to find expertise and support to achieve better health and fitness.
Lindfield Success Stories
Our holistic approach to emotions, education, eating and exercise has transformed thousands of people across Australia & New Zealand. Get inspired by the journeys of your latest clients.
Are you our next success story?
Give your goals the greenlight and join us. Book your free consult now.