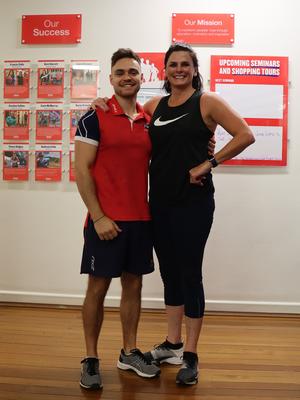 Tell us about your life before joining Vision Personal Training Lindfield?

Before I joined Vision, I exercised intermittently but I lacked structure and at times motivation. I had three children under five and was working full time. Life was extremely busy, and I did not prioritise my fitness and health.

What was the state of your health and fitness when you started and what affect was this having on your life?

When I started at Vision, my youngest child was 11 months old. I was an active person, but I did not do any strength or resistance training and I did not focus on my diet and knew little about nutrition.

What results have you achieved at Vision Personal Training Lindfield?

As a result of my time spent at Vision, I have improved my overall fitness but in particular my muscle mass and reduced my visceral fat. Vision has educated me on the importance of weight and resistance training particularly as I get older and the importance of eating the right food in order to achieve my desired results. Since joining Vision, I have felt fitter, stronger mentally and physically and I have more energy. During my time at Vision, I have participated in a number of activities that have taken me outside my comfort zone including Miss Muddy, RAW challenge, City 2 Surf, fun runs, colour run, Coast Trek and several half marathons. It is an incredible sense of achievement as an adult to set yourself a task and accomplish it.

What did you find was the most useful tool at Vision?

During my time at Vision, I have found that the MyVision app really help to keep me on track and motivated. Checking in with my trainers each week and weighing in has also kept me accountable and focused on my goals.

What impact has your new health and fitness had on your new life?

My improved health and fitness has had a massive impact on my life. My improved health has enabled me to keep pace with my children and my busy lifestyle and has improved my stamina overall. My health and fitness has given me confidence and made me realise that age is no barrier.

What keeps you motivated?

Feeling fit and healthy keeps me motivated to exercise. I am also motivated by my trainers at Vision that check in on me weekly as to how I am going and consistently encourage me to achieve greater results, to set goals and to participate in exercise activities and challenges outside of the studio including running events etc. The trainers at Vision have become part of my family and the other clients that attend have become an important part of my community and social life. At Vision I am surrounded by like-minded people who are focused on fitness and health and extremely supportive of one another. I am motivated by those around me.

My life is fast paced, and I don't want it to ever slow down. I know that if I keep training and maintain my fitness and health I can continue to keep up with my family and live a healthy life.

What advice would you give to someone that is currently thinking about taking a positive step towards changing their health and fitness?

My advice would be to put on your runners and get on with it, stop procrastinating. When you have good health and fitness you feel empowered, and you are able to tackle anything that life throws at you. Good health and fitness is achievable at any age.

If you were to recommend Vision Personal Training Lindfield to your friends, what would you say?

I would recommend Vision Personal Training Lindfield without hesitation. Vision Lindfield is not just a gym, it is a unique community offering unwavering support, friendship and encouragement. The caring trainers, led by Liam are committed to their clients and go above and beyond to ensure their clients achieve their goals and are always challenged. I feel truly privileged to be part of The Vision Lindfield community.
Lindfield Success Stories
Our holistic approach to emotions, education, eating and exercise has transformed thousands of people across Australia & New Zealand. Get inspired by the journeys of your latest clients.
Are you our next success story?
Give your goals the greenlight and join us. Book your free consult now.