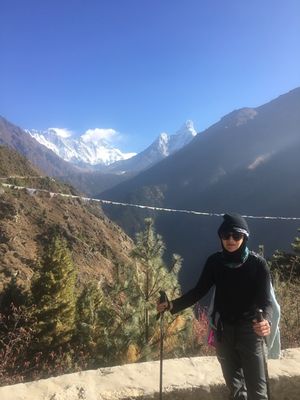 Tell me about your life before Vision?
Before Vision Personal Training I used to walk most days, but I never really pushed my limits or tested my boundaries, so I never improved my strength or fitness. I was often tired and balancing work and family demands was stressful. About six months before I tried Vision I joined one of the twenty-four-hour gyms, but I didn't end up attending regularly. I didn't enjoy it and I felt unmotivated. I trained with my trainer occasionally, so I never really benefited much at all.
What results have you achieved and what are some defining moments during your journey?
I had worked as a doctor in at travelclinic for eight years giving medical advice and vaccinations to patients pursuing their dreams and visiting exotic locations.
It was time for my own adventure! I wanted to see Mt Everest and trek in Nepal myself. At 56 I realised that I would need to take my fitness seriously. Walking the dog wasn't going to cut it!
It's daunting to walk into a gym and be "assessed" for the first time in many years.... especially after you have had five children. Would I be entering a world of lycra and gym junkies half my age?
I wondered how I would add personal training into my busy schedule. I was already tired a lot of the time, how would I fit in something more?
My doubts melted away the minute I entered Vision Personal Training in Prahran. The friendly atmosphere put me at ease immediately. We worked out a plan and set realistic goals for the next six weeks. I knew that with sensible advice on diet and exercise I was giving myself the best chance of trekking at high altitudes with three of my adult children.
I realised that it would be hard work, but it was so much easier than I had anticipated. Feeling fitter and stronger after every session fuelled and strengthened my motivation.
I had a fabulous trip to Nepal and I was able to hike for 6-7 hours daily up a steep incline and keep up with my kids who are in their twenties. I was really surprised that I didn't even have sore or stiff muscles at night after walking all day long. It was absolutely exhilarating. My sons were very encouraging and have told me how proud they are that we could share such a cool adventure together.
How has life changed for you?
I have more confidence. I have received many compliments about how fit and well I look from family friends and even patients. As a doctor, I believe it is important to lead by example. It is more meaningful to be able to recommend a healthy lifestyle if I am taking my own advice! I enjoy dressing up for work and love being able to wear colours and styles that I like, rather than choosing black and styles that hide bulges. Wearing clothes well has been fun.
What is your favourite thing about training at Vision?
It's unpretentious and friendly. Trainers and other members are positive and encouraging. People always smile and say hello.Enthusiasm about improving your health and fitness is contagious.
The program is well designed, so you don't get bored. The results show in centimetres!
What advice would you give to someone in a similar situation to where you were?
Just try it out because you can't imagine the benefits of regular exercise until you do it. Just take one day at a time and try to make it part of your regular routine like brushing your teeth. It's so good to establish healthy habits.
I am at my target weight but more importantly I feel fitter than I have felt for thirty years. I love the energy and stamina that I now enjoy every day. I am more productive at work and I feel happier within myself.
Youseff has been a wonderful trainer. He has focused on my exercise techniques and has ensured that I continue to progress safely each week despite previous shoulder and hip injuries that I sustained in the past. He pushes me to achieve my goals and allows me to consolidate my gains before setting new ones.
I recommend regular exercise to all my patients. Having a personal trainer at Vision Personal Training has benefited me so much.
Prahran Success Stories
Our holistic approach to emotions, education, eating and exercise has transformed thousands of people across Australia & New Zealand. Get inspired by the journeys of your latest clients.
Are you our next success story?
Give your goals the greenlight and join us. Book your free consult now.