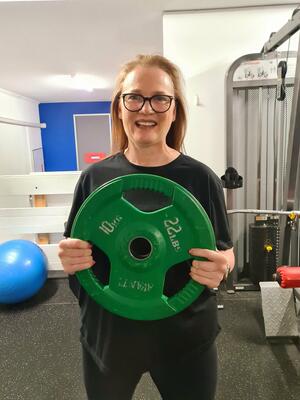 Tell me about your life before Vision? After losing 2 significant people in my life during COVID, I chose to bury myself in work as a way of dealing with everything, until I finally burnt out. Stress, lack of sleep, lack of exercise, chronic knee pain, not eating consistently and drinking too much was my life before Vision. I realised I needed to make some serious changes; I no longer resembled the person I used to be. Over the years, the once fit, happy and energetic person I was, had become sedentary and overweight with a knee injury. I finally booked 2 weeks in Bali to rest and reconnect with myself, and there made a promise to lose weight and care for myself, and hopefully avoid knee surgery for as long as possible. This is when I reached out to the team at Vision Prahran.

What results have you achieved? I've lost over 12 kg so far and shaved 6.1% body fat, 5 years off my bio age, and more than 60cm off my body measurements since I started. The focus on building strength around my knee has meant that I can do stairs freely, walk distances of more than 5kms and do daily 30 – 60minute treadmill sessions pain free. The weight and strength training has completely reshaped my body and I'm so excited for the results to come.

How has life changed for you? I'm so much healthier and happier now and loving this transition from fat to fit and struggling to strong. I have dedicated time for me with a healthy routine of exercise and eating, and no longer allow work or other people's needs to come first, they have to wait. I have boundless energy and receive compliments daily on how amazing I look and "what am doing?" I've also discovered a love of weight and strength training and planning a return to the ski slopes - Life's good!

What is your favourite thing about training at Vision?
The people. The team. The Prahran team have created an amazing studio culture and client community that's fun, welcoming and everyone supports you in achieving your goals. The trainer. I particularly love my sessions with Mak and through his knowledge and coaching has helped me to stay the course and achieve my goals by understanding the process. The clients. I have met a whole new circle of friends through the awesome client community and reconnected with others I'd lost touch with.

What are some defining moments during your journey? Changing my relationship with alcohol and reducing my drinking days to 7 days a month was really the point where everything fell into place for both my physical wellbeing and my mental health. It was like flicking a switch, and after committing to this, my training improved, my sleep improved, my clarity improved, and I achieved my first 10kg weight loss milestone.

What advice would you give someone in a similar situation to where you were, and thinking about making a change? It takes courage to make the first move and admit that you need help, but only you can make it. You can achieve things beyond your expectations if you have the right people supporting you with the right help. There is an incredible confidence that comes with feeling strong and in control of your health and wellbeing. Don't wait as long as I did to reach out for help.
Prahran Success Stories
Our holistic approach to emotions, education, eating and exercise has transformed thousands of people across Australia & New Zealand. Get inspired by the journeys of your latest clients.
Are you our next success story?
Give your goals the greenlight and join us. Book your free consult now.