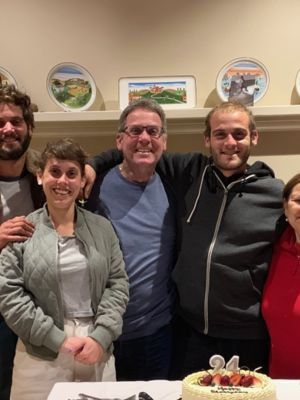 My dear friend recommended Vision. She and her husband have been with Vision for a number of years. They are my age but they are very fit and very strong. I started because I wanted to get fit and lose weight. I could see the benefits it was having on my friends. She's into nutrition and overall being fit and healthy. She organised a meeting for me to meet with Simon at Five Dock Vision. At this point I asked my husband to also come. Obviously, that was a successful meeting for us because we both decided to start the program.
So my friend was the catalyst in getting me and my husband to Vision. We have talked about this for years but now we actually did it. We have wonderful coaches, Erin and Albert who have patiently guided us and trained us for the last 10 weeks and we have reaped the benefits of a healthier body and lifestyle.
Both my husband and I have met our weight loss goal, our bodies feel stronger, we have both improved our health based on our first 9 week body scan (I have reduced my body fat and bio age). Much more aware of nutritional value in food and have tweaked the food my husband and I eat. We are still enjoying lasagne, but only I replace the pasta with cabbage, yes cabbage, it's delicious. I can now walk briskly and faster and not feel out of breath. I have reduced my clothes size from 16/18 to 14 and some of my new pants are already feeling a bit loose. I was able to run for the bus the other day and caught it, something my body would not have been to do previously (Though I was out of breath when I sat on the bus, but I made it).
I didn't think at my age I would be able to manage the exercise, but in fact, I have proven myself wrong. We actually eat more food (the good foods) but still lose weight. I am learning to drink more water (I get reminded very frequently by Erin about hydrating my body!). Coming up for me I am hoping for more weight loss, increased fitness, improved health overall. I want to reduce my clothes size (aiming to be size 12 - haven't been that for many years), I feel quietly confident that I can achieve it. Especially with Erin at the helm!
Five Dock Success Stories
Our holistic approach to emotions, education, eating and exercise has transformed thousands of people across Australia & New Zealand. Get inspired by the journeys of your latest clients.
Are you our next success story?
Give your goals the greenlight and join us. Book your free consult now.