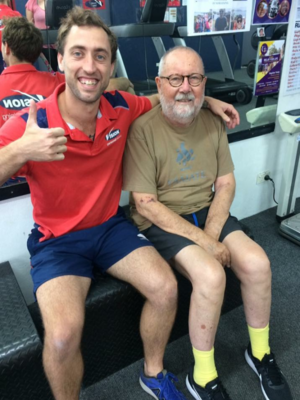 Ron Miles is 70 years old and has been training at Vision Personal Training Drummoyne for over 7 months now. He'll tell you to this day, he couldn't get up the stairs to the studio front door without stopping, resting and catching his breath. Read on to find out how far he's come!
6 years ago, Ron's kidneys started to fail. It became apparent that he would need a transplant but before this could take place he was having difficulty getting from one end of the house to the other! Walking the dog became near impossible and it got to the point that if the phone rang in another room, he'd often have to let it ring out because he didn't have the energy to get there in time.
His wife, Jan, kindly and quickly threw her hand up to be a donor and donate a kidney - literally saving his life. They went through with the transplant and Ron visited the hospital daily for weeks. He started improving, only having to see the doctor every couple of days, until now he's whittled it down to a monthly check up.
The doctors explained that he'd get a spike in his energy levels after surgery but that never came. He decided to take matters in to his own hands and find a personal trainer to help him get his mojo back from a past life where he was an avid participator in all sorts of activities - including playing the drums! He found Vision Personal Training Drummoyne and started working with Ben - a Personal Trainer studying his Masters in Exercise Physiology. They started working on simple machine-based resistance exercises and using the stationary bike to build a base strength and fitness.
7 months on and Ron trains 4+ times each week with a mixture of resistance and cardio training (including twice on his own!). He can now walk the dog over a kilometre, cycle for 15 minutes and is a lot more active around the house! He explained to me "Ben continues to up the ante slowly and track my progress so I know that I'm always improving at a pace I can handle. He's also good for a chat which helps distract me from the work!"
He still takes a plethora of medication, but he's committed to his new lifestyle and says there's plenty more improvement to come! Congratulations on your journey so far Ron, I can't wait to see what you achieve next!
Drummoyne Success Stories
Our holistic approach to emotions, education, eating and exercise has transformed thousands of people across Australia & New Zealand. Get inspired by the journeys of your latest clients.
Are you our next success story?
Give your goals the greenlight and join us. Book your free consult now.