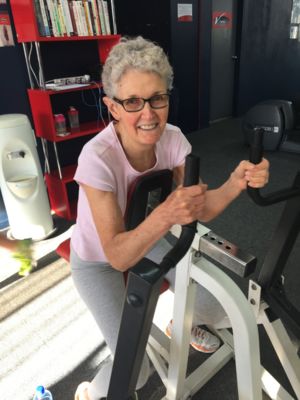 Robyn is an inspiration to all those who meet her. Robyn joined Vision Drummoyne in 2014 and over a period of 7 months lost a total of 10kgs! Not a bad effort for somebody who had never stepped foot into a gym before her 63rd birthday. She was determined to change her lifestyle and nutrition habits because she knew retirement was around the corner and she wanted to be able to enjoy it!
If you ask her today what the key to her success is, she'll say "I'm consistent! committing to a change in my eating and exercise habits, no matter how small, meant that over time I knew I was going to reach my goal. Being a teacher and principal for many years also taught me that there's always something new you can learn. I've changed my life!"
Robyn has set herself some long term goals - continue to play Golf (and be club champion!), fight off osteoporosis, Ski twice a year and continue to monitor nutrition. Robyn proves time and time again that age is just a number, and that if you put your mind to it, you can achieve anything.
Congratulations on a fantastic lifestyle change Robyn, we're really proud of you!
Drummoyne Success Stories
Our holistic approach to emotions, education, eating and exercise has transformed thousands of people across Australia & New Zealand. Get inspired by the journeys of your latest clients.
Are you our next success story?
Give your goals the greenlight and join us. Book your free consult now.