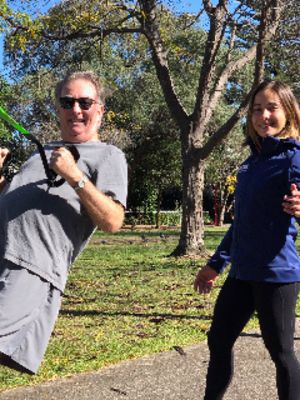 In January this year I received a random message from Max Freeman asking if I was interested in participating in a Vision PT 9 Week Challenge. I had been concerned about being overweight for quite some time and after an indulgent festive season thought this was a great opportunity. I went in to meet Max and he appeared sceptical when I said how much weight I wanted to lose, and asked how I would feel if l lost half that amount. I just said I'd be disappointed.
Next was 9 Week Challenge orientation session where the key takeaway I got came from James Drury, which was if you're going to do something you need to absolutely stick with it all the way to the end, whether it is an exercise, a whole program or walking across the room.
Max then lined me up with Tania to be my trainer who got me started on my training program. Throughout the challenge Tania has gone the extra mile to keep me focussed on my program and diet. Although we got disrupted by COVID-19 during the Challenge, Tania developed a great online training program for me. Without her I would not have lost 10kg during the Challenge and hit my target of losing 12kg two weeks later. Now I can fit into favourite clothes that I haven't been able to wear for years!
I really enjoyed the Challenge, initially I found the diet a bit tricky, but Tania got me to concentrate on eating all of the macros on normal days and introduced Accelerator Days, which I grew to enjoy with some delicious recipes I found, including Chicken Piccata and Moroccan Chicken with Cauliflower Couscous.
Thanks to the whole team at Vision PT Bondi Junction, I have found you all really supportive in my weight loss journey. I haven't finished yet and intend to lose another 8kg. Bring it on.
Bondi Junction Success Stories
Our holistic approach to emotions, education, eating and exercise has transformed thousands of people across Australia & New Zealand. Get inspired by the journeys of your latest clients.
Are you our next success story?
Give your goals the greenlight and join us. Book your free consult now.