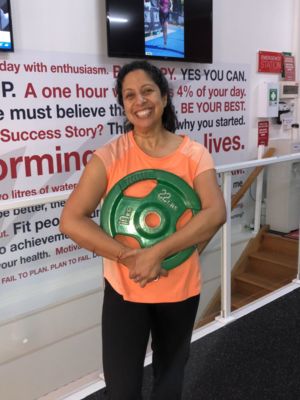 Tell me about your life before Vision?
I had been able to maintain my weight and keep relatively fit up until about 6 years ago. Work situations and reaching 'that age' where there are significant hormonal changes in your body, what worked for me 10 years ago didn't produce the same results on my changing body now.
What results have you achieved?
I have lost 10kgs, 44cms and dropped 2 dress sizes since training with Jesse at Vision since middle November 2017. What's more important to me is I am feeling and looking like my old self. Small things e.g. Ease in bending over to put on shoes, getting out of bed in the morning without aches and pains.
How has life changed for you?
I feel much happier, fitter and less stressed!
What is your favourite thing about training at Vision?
It's an unpretentious, friendly environment (clients and trainers). Jesse is a genuine, knowledgeable professional. Most important to me she is a realistic trainer who works with you as an individual to achieve a balance between your goals and lifestyle. I'm so grateful to have her on my side during my BATTLE!!
What are some defining moments during your journey?
Catching my reflection in the mirror in a body pump class and realizing I was looking like my old self.
Having a skirt taken in to fit and being able to wear work suits I hadn't worn in 3 years.
People complimenting me on changes in body shape.
What advice would you give someone in a similar situation to where you were, and thinking about making a change?
It is hard work but totally worth it and don't put it off as long as I did.
Prahran Success Stories
Our holistic approach to emotions, education, eating and exercise has transformed thousands of people across Australia & New Zealand. Get inspired by the journeys of your latest clients.
Are you our next success story?
Give your goals the greenlight and join us. Book your free consult now.