Before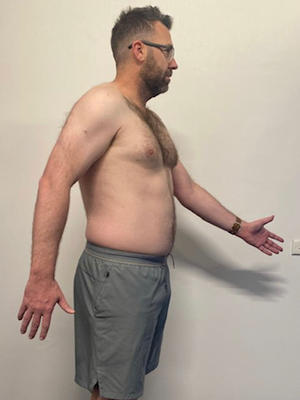 After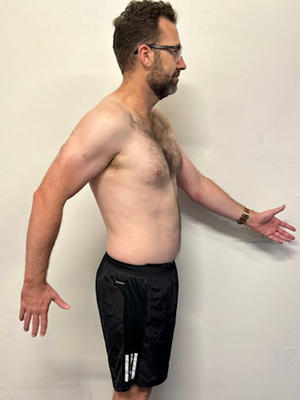 Peter is a father of 2 with a long busy schedule and lifestyle.

Within 12 months he has lost just under 20kgs and counting.

Here is what Peter had to say about his Vision experience:

Before joining Vision Bondi Junction, I was overweight, lethargic, and riddled with neck, back, knee, and ankle pain. I have a demanding job and an energetic six year old who demands piggy backs and to sit on Dad's shoulders everywhere we go. I desperately needed to get in shape and lose weight.

I had previously tried to get in shape myself however would always go too hard too soon and injure myself and unable to maintain a consistent approach to training. I knew I needed a sustainable approach, and that I could no longer do it on my own. So, after years of inactivity and unsuccessful attempts to train and lose weight, I joined Vision in April 2022.

10 months on and I can honestly say that joining Vision has been the best decision of my life with regard to my health and wellbeing. By Christmas I had lost 18kilos and weighed in under a 100 kilos for the first time in over twenty years. This would not have been possible without the help, guidance and support of my trainer, as well as the rest of the team at Vision who are a constant source of encouragement and motivation. Not only have I lost weight, but have slowly been put back together and feel strong, and am now setting strength and fitness goals which a ten months ago seemed impossible.

What surprised me the most was that I didn't just join a gym but an amazing community of people eager to share and enjoy each other's success. The culture that has been developed at Vision Bondi Junction means I look forward to going into the studio, not just to train but also for the people. The added bonus for me is that I have been able to share this experience with my Wife who joined at the same time. We have lost almost 40 kilos between us which is incredible, and we are so happy to have not only developed sustainable healthy habits, but joined an amazing, fun, and supportive community at Vision.

Do you have health and fitness goals? Get in contact today.
Bondi Junction Success Stories
Our holistic approach to emotions, education, eating and exercise has transformed thousands of people across Australia & New Zealand. Get inspired by the journeys of your latest clients.
Are you our next success story?
Give your goals the greenlight and join us. Book your free consult now.