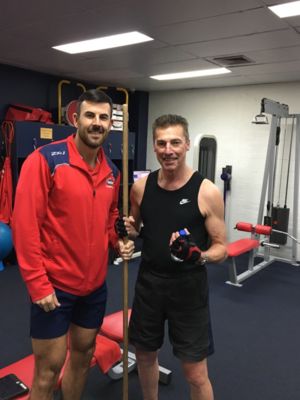 One of the best things that I have achieved in the past 10 years is to have given up smoking and walking into Vision Personal Training in Bondi Junction. I didn't want to go to just a gym and work out by myself as I would not know what to do and would probably hurt myself.
I thought to my self-having a personal trainer is the only way to go because if your booked in you will go once twice or three times a week, simple. The team at Vision are so professional, friendly and so helpful which is a big big plus. My other reason for joining Vision Gym is because of my work in corporate, in house and wedding catering which is very physical and demanding and you have to be very fit, especially at my middle age youth!
Around six months ago I started with John and noticed a huge difference in training and I was seeing results happening a lot sooner as he put me on to my nutrition and eating habits of good and healthy choices including good fats, protein and carbs which has totally changed my eating habits. So, six months down track and I'm feeling a lot stronger, fitter, positive, and have more energy than 20 years ago! I also was seeing a chiropractor every week but thanks to John at Vision I'm only going once a month!!
I'm really amazed in the changes to my body in the last six months and totally looking forward and excited for the next six months. I also owe a very big thanks to Malcolm at Vision as he helped me so much and kept me there for around 10 years [cost me a few 6pks of Corona though!] So the guys at the Studio who know my name when I walk in , you make it feel like home. Thank you big time!
Bondi Junction Success Stories
Our holistic approach to emotions, education, eating and exercise has transformed thousands of people across Australia & New Zealand. Get inspired by the journeys of your latest clients.
Are you our next success story?
Give your goals the greenlight and join us. Book your free consult now.