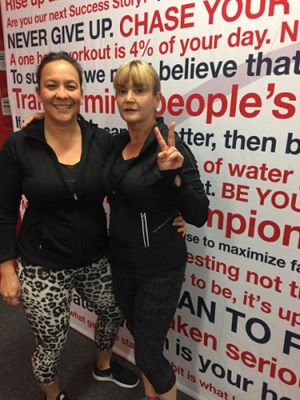 Camille started with Vision Stanmore in March 2015 and shortly after convinced a close friend- Michelle to join a week later. Since then, the pair have changed their eating and training habits for the better with their accountability not just with their trainers within the studio but to each other outside.
Camille and Michelle have lost over 20kgs together and have been great advocates to the studio's community and culture, regularly attending group training sessions together and numerous studio events. If you plan on attending our Monday/Wednesday night boxing, best bet you'd see them there too!
After achieving their weight loss goals both Michelle and Camille have pursued fitness goals and habitual lifestyle goals. Michelle has completed numerous fun runs and keeps setting the bar higher after each run. Camille has set goals to continue losing weight along with various strength goals. Inspiring others around them they continue to move forward after each goal completed and keep challenging themselves while they progress.
At Vision, we believe that involving your circle of influence can have a positive outcome and fast track your results. Camille and Michelle are a testament to this through their individual results and journey together, great work ladies!!
Stanmore Success Stories
Our holistic approach to emotions, education, eating and exercise has transformed thousands of people across Australia & New Zealand. Get inspired by the journeys of your latest clients.
Are you our next success story?
Give your goals the greenlight and join us. Book your free consult now.