Before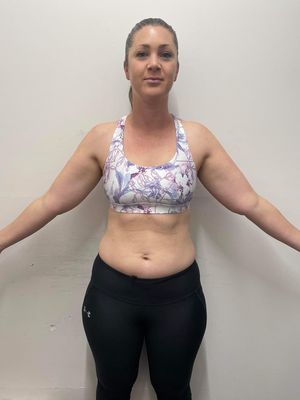 After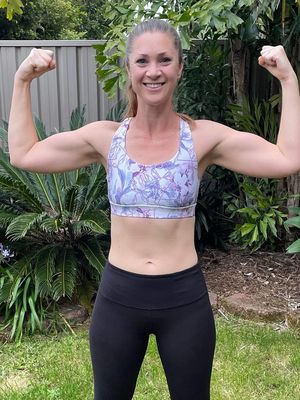 I joined Vision just as lockdown was about to start in July 2021. I was feeling unhealthy, unmotivated, lethargic and I knew that I needed to do something for myself. I was always a fit and active person but had lost my way, as a busy working mum with two children. Little did I know how much of a lifeline Vision would be for me and allow me to transform into a happier, healthier and stronger version of myself a few months later.
For the first 3 months of my Vision journey, I completed my personal training sessions at the local oval, due to Covid restrictions. I didn't set foot in the studio until lockdown had ended, where I got to see how amazing the Vision community and the vibe in the studio is! I was so grateful to Vision for being so flexible in their delivery of training sessions during lockdown. I looked forward to my outdoor personal training sessions each week, as it gave me something fun and positive to do during the stressful time of working from home and home-schooling my children. I loved the x-train sessions on Zoom that I could do in my backyard each night.
Vision encouraged me to focus on building positive habits, such as drinking 2 litres of water, tracking my food and exercise, and reading daily. I managed to lose approximately 10kg during lockdown which I am very proud of. I feel that one of the main factors of my success was focusing on my food intake and understanding my eating habits. I had developed some negative habits of eating whenever I felt stressed, bored or emotional. By becoming aware of this, I was able to change my negative habits and focus on eating food that I enjoyed that had greater nutritional benefits.
I have now lost approximately 12kg, and I feel fit, strong and my energy levels are higher than they have ever been. Focusing on myself has impacted many areas of my life in a positive way. I have been running around with my kids, swimming laps at the pool, playing netball with friends and doing lots of bush walking and hiking. I have even revisited my love of writing, with a focused and clear mind, which has been a goal of mine for the last few years. Vision has helped me to set and achieve my goals of becoming a happier, healthier and stronger version of myself and I am so proud of what I have achieved through Vision.
Bangor Success Stories
Our holistic approach to emotions, education, eating and exercise has transformed thousands of people across Australia & New Zealand. Get inspired by the journeys of your latest clients.
Are you our next success story?
Give your goals the greenlight and join us. Book your free consult now.