Before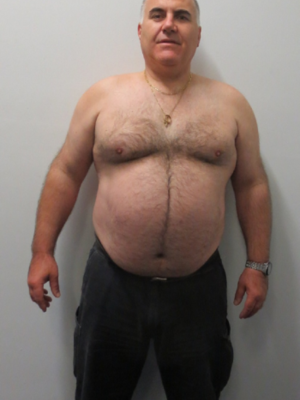 After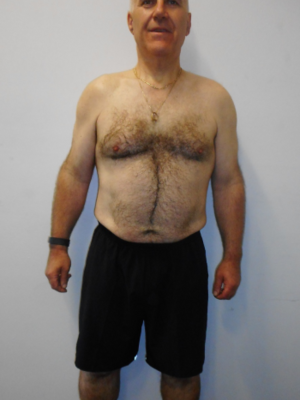 My name is Michael Koutsoukis, I'm 58yrs old and have been married for 27 years. My wife and I have 4 sons, all in their 20s. This is my simple little success story. Having worked 7 days a week for the past 12 years to support my relatively large family I eventually got into a rut where I lost the zeal for life. From being a moderately healthy bloke I became an obese 120kg short fat bald man who didn't care how he looked or what he ate. This devastated my sons and wife who would often plead with me to change my ways. They often came to me in tears worried I would have a stroke or die of a heart attack. Even my doctor was very concerned for my health. I didn't care and virtually wanted to drop dead so I could forever rest. What a sad way to live a life.
Well, thank God, my dismal look to life changed when my son Patrick joined Vision Bondi Junction as a Trainer. Patrick persuaded me to train before I went to work, so as to help him get recognition. I mainly did it to keep the peace, but it started a change in me. After having trained a few weeks I felt as though I was doing more than just going to work and back. It was as if I was out and about enjoying some recreation before having to be stuck in my shop for the rest of the day. It was as though fresh air was passing through my body. This, in turn, made me want to train. In wanting to train more I started to lose weight and feel good about myself. Now, I might still be a short bald man pushing 60 but I'm one who feels energetic like a 35-year-old. I definitely don't look 35 but that doesn't matter. What matters is that I found my mojo and my enthusiasm for life has been re-ignited. My wife and sons are proud of my achievement and I am now down to under 95kg, the lightest I've weighed in over 30yrs. My final weight goal is to be around 88kgs and I know I can do it. I can do it because this journey to date has been a team effort. Jeannette, my loyal wife, busily prepares my Vision approved dietary requirements. Patrick, my son and Personal Trainer, monitors my training program at Vision Bondi Junction. Another major influencing factor in my life changing success is the team of Trainers my son is very fortunate to work with. Led by Chris, this crew of enthusiastic, warm, polite and respectful young talent makes this gym a genuinely friendly down to earth place to train comfortably and without any inhibitions or fear of failure. This good nature reflects onto us clients with camaraderie well abound, but not forgoing our objectives of a healthier way of life. I want to train at Vision Bondi Junction for as long as I physically can. Thank you to those who read this story and I hope to encourage others to train here with us.
Bondi Junction Success Stories
Our holistic approach to emotions, education, eating and exercise has transformed thousands of people across Australia & New Zealand. Get inspired by the journeys of your latest clients.
Are you our next success story?
Give your goals the greenlight and join us. Book your free consult now.