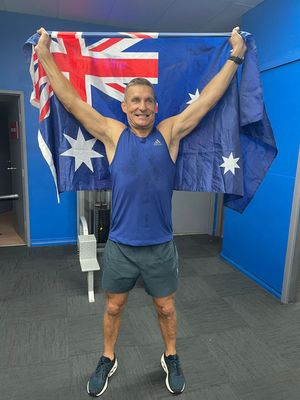 My journey with Vision started with a goal to loose some weight and work on my well-being to create a healthy and balanced lifestyle. Starting triathlons and having a competitive nature saw me striving to better my times and set goals that required consistent effort. Having some success and wanting more, I made the commitment to myself that with dedication and hard work the goal to be an Australian Athlete was possible and not just a dream.
My journey began once I made a decision over 2 1/2 years ago to listen to my coaches. Work outside my comfort zone and to focus on my strengths and weaknesses that would build success. Training 6 days per week sometimes twice a day. Early and late, in all sorts of weather, through every season plus balancing work and family requires strength and encouragement. The Vision family and team including everyone around me have all been an integral part of this journey. Something that I am truly grateful and respectful of.
The hurdles of the COVID pandemic with training restrictions, travel bans and cancelled events only strengthened my desire for future success. An end goal with a focused training platform. Understanding coaches and having a teachable attitude all contribute to the realisation that everything is possible providing you never loose sight of your dream. No matter what hurdle you have to get over. Thank you to everyone that have always encouraged me and supported me as I work towards wearing the green and gold. Can't wait for what the next three months bring as final preparation and training commences on the road to Montreal Canada.
Bangor Success Stories
Our holistic approach to emotions, education, eating and exercise has transformed thousands of people across Australia & New Zealand. Get inspired by the journeys of your latest clients.
Are you our next success story?
Give your goals the greenlight and join us. Book your free consult now.