Before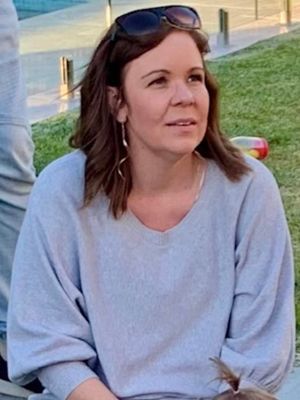 After
My experience at Vision began with just taking that first step, making an appointment and seeing how they could help me. I hadn't realized the Vision program included weekly 1:1 personal training, gym access, group classes, regular seminars and challenges along the way, if I was comfortable joining them. I previously had gym memberships, which had failed, as I was always motivated at the beginning, but life got in the way and I would stop going. The Vision program appeared to have it all, but believe me I was still a little cynical. I made it very clear that my life was chaotic, I worked full time, had two young daughters under four, with one having a severe disability and I had a complex medical history including two frozen shoulders and Type 1 diabetes mellitus. I had reservations how the program would work for me, but I was reassured that I would be supported along the way and would never be alone.
As soon as I began, I felt it, constant support, guidance and education regarding the small steps and the process changes to achieve my goal. Eating healthier, making better choices and prioritizing exercise became so much easier. I still needed to fit in as many classes as I could and sometimes life did get in the way of this, at the busiest my youngest daughter was having 16 hours of therapy all over Sydney and I still managed to attend my PT classes… because Vision became my place to have some ME TIME, which over the years had definitely fallen off my priority list.
My PT Jack was always supportive around my goals and how I could realistically achieve them. He always understood when I was having a busy week and I needed to reschedule my PT sessions and I could always bring my kids along to the gym, which was the one thing that really made this work for me. I wasn't just a number at Vision, I felt like part of the team. There were times that I cried with my trainer about how life was so busy and other times I laughed in reflection about how easy I have found the process, with just simple changes to my life.
My journey continues and I now know after losing close to 10kgs that I am so proud of myself and what my future holds. I believe that Vision has helped me achieve something that I thought was unachievable in my situation. I can now say that I love when I receive comments about my weight loss and ask how I did it…. but the one thing I truly cherish is that my family have come along for the empowering experience with me, my daughter asks 'when are we going to do our exercise's Mum?', not 'What movie are we going to watch?'. I see the positive impacts on those around me. I think the Vision journey is not over for me as yet, but I certainly know I'm on the right track now.
Bangor Success Stories
Our holistic approach to emotions, education, eating and exercise has transformed thousands of people across Australia & New Zealand. Get inspired by the journeys of your latest clients.
Are you our next success story?
Give your goals the greenlight and join us. Book your free consult now.