Before
After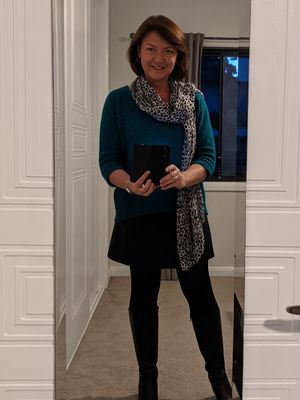 I came to Vision feeling cranky, anxious and unhappy with having put on weight after turning 50. Ah, the delights of menopause! This is despite having a healthy diet and being a cardio-addict most of my life. But a few unhealthy habits had snuck in. The demands of full-time work, managing health services during a pandemic plus caring for a family member with their own physical and mental disabilities, were also taking their toll.
Being a health professional, I knew that strength training was essential, but I didn't enjoy it. Until I went to Vision. I noticed that as my physical strength built, so did my mental strength. Feeling stronger mentally and physically, and tackling long term injuries, has been the best part of my Vision journey. I reached my goal weight and measurements last year in September, and maintained it (mostly), but I've continued to build strength and set other goals around mental health.
I did the Sutherland to Surf in 2019 and hope to do it again this year. I completed the Push up challenge this month (June) to raise funds for mental health services and ticked off the Overland Track in Tasmania with a full pack, I also completed the Larapinta trail amongst other multi day full day hikes! But more importantly I've built up confidence and now have lots of 'tools' and strategies for managing mental health and resilience. It doesn't make life any easier, and there are always events that knock you sideways. The difference is picking yourself up and moving forward.
Bangor Success Stories
Our holistic approach to emotions, education, eating and exercise has transformed thousands of people across Australia & New Zealand. Get inspired by the journeys of your latest clients.
Are you our next success story?
Give your goals the greenlight and join us. Book your free consult now.