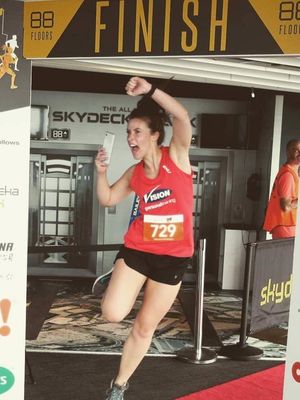 TELL ME ABOUT YOUR LIFE BEFORE VISION
I had been doing Pilates for about 4 years prior to Vision and I did really love it. I had tried every gym, class and style of exercise under the sun and Pilates was the first that I actually enjoyed. That is until I started at Vision. Whilst I was enjoying Pilates, I wasn't seeing the physical results that I wanted to see.
WHAT RESULTS HAVE YOU ACHIEVED
Since starting at Vision over a year ago I've been able to maintain my weight and increase my strength and overall fitness. I have also lost a total of 8kgs since starting and 6 of those have been during the most recent 9-week challenge! I have completed a 200km bike ride to raise awareness for organ donation as part of Heart Trail, the 100km Oxfam Trailwalker and I'm lined up to complete the Eureka Stair Climb.
HOW HAS LIFE CHANGED FOR YOU
I have a much better understanding of nutrition and how to use this to achieve weight-related and fitness-related goals. I am fitter than I've ever been, my confidence is up and I'm very proud of myself!
WHAT IS YOUR FAVOURITE THING ABOUT TRAINING AT VISION
I love that when you walk in you feel welcomed immediately when all of the trainers greet you by name. They encourage an environment of inclusivity where everyone is welcome - all ages, sizes and abilities. I never enjoyed going to the gym but rather did it because I knew it was good for my health. I actually enjoy coming to Vision so much so that some weeks I'm there 6 days a week without realising. It's part of my routine and I look forward to going back after I've been away overseas. It's a great little community.
WHAT ARE SOME DEFINING MOMENTS DURING YOUR JOURNEY
There have been a couple but the first would have to be learning about nutrition. I thought that I ate reasonably healthy, and I did, BUT I wasn't eating the right things to see the results I wanted. I was maintaining my weight but I wasn't able to lean down or tone up further. After learning to use the MyVision app, attending the free Shopping seminar, various 9-week goal planning sessions I've learnt so much.
I've also learnt to love meal prep! It makes my life SO much easier to not have to cook when I come home late from work. I've also saved a tonne of money by not eating out because I don't have a meal handy.
Completing the 9-week challenge has been a game-changer. There has been so much support from the trainers and other gym members. I'm seeing awesome results and feeling amazing.
WHAT ADVICE WOULD YOU GIVE SOMEONE IN A SIMILAR SITUATION TO WHERE YOU WERE, AND THINKING ABOUT MAKING A CHANGE?
At first, I was concerned about it being just another gym - it's not. I was concerned about the cost because there is more a cheapie 24hr gym that I hated going to and didn't actually go to - Vision is worth every penny.
I often feel intimidated in gyms, especially co-ed gyms - not in Vision.
Stop thinking about it and go for it! Set yourself some goals and let them show you how to achieve them. Trust the process and enjoy the journey.
Prahran Success Stories
Our holistic approach to emotions, education, eating and exercise has transformed thousands of people across Australia & New Zealand. Get inspired by the journeys of your latest clients.
Are you our next success story?
Give your goals the greenlight and join us. Book your free consult now.