Before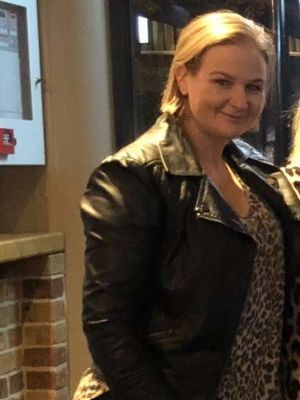 After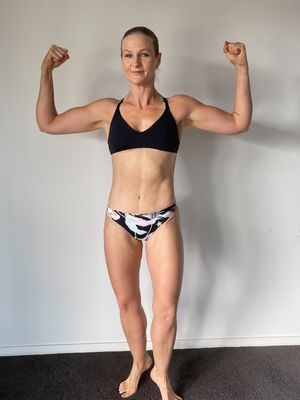 April 2020 - I was sitting on the lounge drinking wine and eating a party size pack of salt and vinegar chips per day, not wanting to do anything active with my children, we were a month in of Covid lockdown when I woke up and said this is enough. I said to myself 'imagine where I could be in 6 months if I don't give up' and that is what I have repeated to myself almost every day.
I started losing weight with clean keto and walking. All my life I have had a continuous weight problem and low self-esteem, I have done every crash diet there is and over the years have fluctuated from 55kg to 110kgs. Now this time I wanted it to be different, I wanted to stop the up and down dieting and binge eating, I wanted to show and teach my children a healthy lifestyle so I joined Vision.
Joining Vision and with the guidance from my trainer Luke has taught me about marcos, consistency, to have patience and being prepared is key to achieving goals. I have learnt not to be scared of carbs and I have also learnt I can eat in moderation fuelling my body with nutritious food and with consistent training. I lost a little over half the weight during lockdown and the rest with Vision losing a total of 20kg.
My goals are continuously working towards reshaping my body, building strength and fitness. For the first time in my life, I had a Christmas without putting on weight and staying at 60kgs, I also went mountain bike riding for the first time in my life with my children and didn't want to die. Weights and fitness have also helped with mental health when life feels out of control, I can control my diet and exercise which really helps.
As far as motivation is concerned you don't just have motivation you just have to start. My children have some challenges making daily routine extremely hard so there are some mornings we barely make it out of the house, I'm so frazzled that it would be easier some days to just give up but I don't, from staying consistent I have built healthy habits and it's now a part of my daily routine and I enjoy the process and feel fit and healthy.
I'm very proud of my progress at age 44 and a single mum of 3 young children, it's not easy making a lifestyle change and allocating the time for yourself but it's the best decision I have made for myself and my children. The progress has been amazing in the last 9 months since joining Vision and I couldn't have done it without Luke's constant coaching and motivational talks. This is what happens when you don't give up and just keep moving forward.
Bangor Success Stories
Our holistic approach to emotions, education, eating and exercise has transformed thousands of people across Australia & New Zealand. Get inspired by the journeys of your latest clients.
Are you our next success story?
Give your goals the greenlight and join us. Book your free consult now.