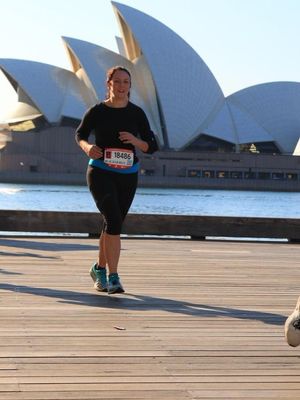 Tell us about your life before joining Vision Personal Training Lindfield?
It's a long time ago so a little hard to remember; I had two primary school children and was just starting to emerge from the years when the children are very dependent. It felt like I should be able to have some time for myself again.

What was the state of your health and fitness when you started and what affect was this having on your life?
My health had not been a priority and I wanted to make a change, I was the heaviest I had ever been, and I didn't want to continue down that path.
What results have you achieved at Vision Personal Training Lindfield?
The initial focus was to lose weight, but it's evolved multiple times since to build strength, flexibility or recover from injury or body niggles. Over the years the training I've done has had a different focus and it's a credit to the trainer that I work with, Ibrahim, that he always keeps things interesting. A program is adjusted to how I am each day, and he can tell when to push harder and when I need a bit more space and rest. There were times where he was creating goals with me that I wasn't sure I could achieve. I wanted to run because it was easy with kids, you can go whenever and it doesn't require a heap of specialised equipment, just a good pair of shoes. Ibi encouraged me to participate in races and I've now completed multiple half marathons and this form of exercise is now like a meditation (sounds a bit nuts but sometimes good ideas come when I'm running). In the time I've been at Vision running has become part of who I am.

What did you find was the most useful tool at Vision?
The accountability that having a PT waiting for you creates is like nothing else. 😊

What impact has your new health and fitness had on your new life?
I see health as the most important thing in my life. It's the foundation. If you don't have good health, then so many other things are harder or compromised. It's not a new life anymore it's a foundation aspect of my life.

What keeps you motivated?
The other people around me at the gym. I find it inspiring to see others achieve their goals, the clients and trainers support one another. There's always another challenge, something you've not tried or another way to mix it up and keep things interesting.

What advice would you give to someone that is currently thinking about taking a positive step towards changing their health and fitness?
Habits are built initially by making small changes, sometimes that added accountability and expertise of someone to keep you on task can make the difference in setting a new path.

If you were to recommend Vision Personal Training Lindfield to your friends, what would you say?
It's developed into a warm community of people who are doing their best to be their best and lift others in the process. If you want to achieve a new fitness goal and need non-judgemental support, they are a great place to start.
Lindfield Success Stories
Our holistic approach to emotions, education, eating and exercise has transformed thousands of people across Australia & New Zealand. Get inspired by the journeys of your latest clients.
Are you our next success story?
Give your goals the greenlight and join us. Book your free consult now.