Before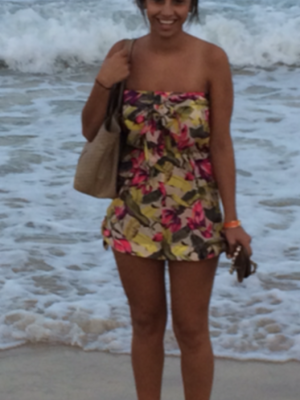 After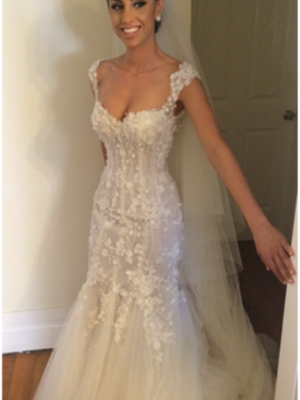 I have been dreaming about my Wedding Day, and that "Perfect Dress", since I was a teenager. When I first became engaged I wasn't happy with the way I looked and many attempts at fad diets and excessive exercise were not working for me, in fact I was putting on weight.
Realising I just didn't have the knowledge or accountability I know I needed to get my on track to the body I so desperately wanted for my Wedding Day… I called the Vision Personal Training Drummoyne Studio, after seeing the incredible results a friend of mine had achieved as a member there.
In a nutshell, I was Skinny Fat! - weighing 59kg but body fat percentage in the low 30's it was quickly pointed out that my health needed to be a priority too, as well as looking great. I was only eating 2 meals a day, never had breakfast - worst decision ever! My metabolism was almost dead and I was storing fat. No wonder I was so tired all the time!
I had a time frame of 7 months and was determined to succeed!! Following my individualised weekly program and the incredible and round the clock support of my trainer and the entire Drummoyne team I not only hit my goals in 7 months, but surpassed them, highlighted by winning the 9 Week Wight Loss Challenge in May 2014!
My Wedding Day was perfect, and without a doubt the most important day in my life… however it is just one day - 18 months on my health and fitness results achieved so far at Vision Personal Training Drummoyne will last me a lifetime. I have lost 9kg, dropped 17% BF, now eat 5-6 meals every day and understand and have an awesome relationship with food - I love eating! I am also training for my first Half Marathon in May, my long term (big scary) goal! The support I have been given by the trainers has been unwavering, their knowledge, professionalism and their belief in their clients ability just makes you want to keep coming back day after day. My advice to anyone starting at Vision Personal Training Drummoyne is to embrace their nutritional guidance, KEEP A FOOD DIARY, have an awesome short and long term goal, drop the mentality of a "Quick Fix" they don't exist if you are wanting long term sustainable results and find exercise that you enjoy doing. One of the first things my trainer said to me is it may not always be easier but it will definitely be worth it!!
Drummoyne Success Stories
Our holistic approach to emotions, education, eating and exercise has transformed thousands of people across Australia & New Zealand. Get inspired by the journeys of your latest clients.
Are you our next success story?
Give your goals the greenlight and join us. Book your free consult now.