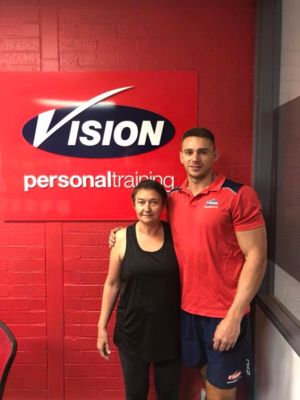 In 2016 a family friend gave me my first challenge to Vision Bondi Junction. She said there are no excuses, it's around the corner from work and it's the place for you - it's not the same as other gyms. Little did I know what would happen over the next 2 years...
After an arthroscopy on my right knee, I had a big setback, it was a long time in recovery and physio, so my love of food and weight escalated and my fitness went out the window. I couldn't walk around the block without my knee swelling, plus the extra kilo's.

Making the decision to stick those 9 weeks which has now become a lifestyle, a happier and healthy me. The reason why, Vision is not just a gym, it's a lifestyle change. The guidance with diet and exercise have made all my goals achievable. Thanks to my Trainer Craig Smith who has stuck by me (I swear he has hit his head a few times against a brick wall) but making ME accountable for my downfalls, plus walking into an environment where they know your name and your just not a number.

In that I have made a few, not small achievements, from the strength of my gym buddies and the amazing team at Vision Bondi.
These are doing my PB on my weights, doing 5 classes a week, which are boxing, cross train and revive. Bonus losing a few kilos and cm, completing the City to Surf x3, beating my time.
And my personal best Tough Mudder 1/2 course this year! 9 obstacles -10 km of MUD. I am a tough Mudder now.

So as Confucius says it does not matter how slowly you go, don't stop.

So this is the new me and for all of us who think it's not achievable it is . I love my life, and I'm not stopping. A mention to the women of Coffee Club and Walk Club who bring us all together each week!
Bondi Junction Success Stories
Our holistic approach to emotions, education, eating and exercise has transformed thousands of people across Australia & New Zealand. Get inspired by the journeys of your latest clients.
Are you our next success story?
Give your goals the greenlight and join us. Book your free consult now.