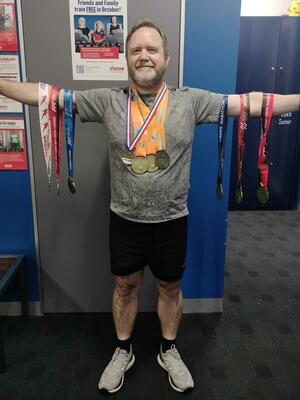 Justin's fitness journey began at Vision Prahran when it first opened its doors many years ago. At that time Justin remembers not really being able to run 500 meters without struggling.

Justin set a goal of being able to do the Melbourne Marathon within his first 12 months of training. Remember 500m was a struggle so this was really ambitious. Justin signed up for a 10km as a starting point and then onto a marathon.

With help of his first trainer Justin completed his first marathon and achieved the goal he was after. From then on Justin had got the running bug. Now with his trainer Drew his training was focused on making sure he was not just race ready but able to complete his training injury free.

Justin's journey to marathon success was not without its share of setbacks. There were moments of doubt, pain, and exhaustion. But every time he stumbled, Drew and his fellow training companions at Vision Prahran were there to pick him up. Their camaraderie turned challenges into opportunities for growth.

Justin has seen incredible transformations in his physical fitness and mental strength. Justin has a best time of 4:18 for his marathons and still aims to better this with every race he does no matter how his lead up has been.

Justin's favourite marathon memory was one that he won't let Drew forget. It was the Great Ocean Road Marathon, where he challenged his trainer, Drew, to a friendly competition. Justin was determined to beat Drew taking part in his first marathon. Near the end when Drew was coming back Justin he found another gear and managed to stay ahead.

Now, Justin is on the cusp of his 7th Melbourne Marathon, a testament to his relentless commitment and the unwavering support of Vision Personal Training Prahran. He has not only conquered his fitness goals but also discovered a newfound passion for running that continues to push him to new heights.

Justin's journey is a remarkable testament to the power of determination, personalised training, and the support of a dedicated team. At Vision Personal Training Prahran, dreams are not only achieved but exceeded, and Justin's story is a shining example of what's possible when you believe in yourself and have the right guidance along the way.
Prahran Success Stories
Our holistic approach to emotions, education, eating and exercise has transformed thousands of people across Australia & New Zealand. Get inspired by the journeys of your latest clients.
Are you our next success story?
Give your goals the greenlight and join us. Book your free consult now.