Before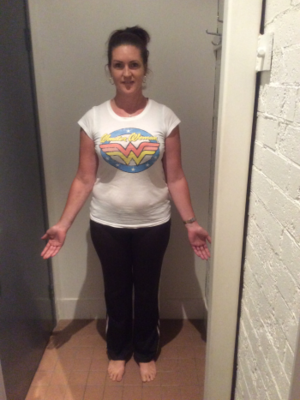 After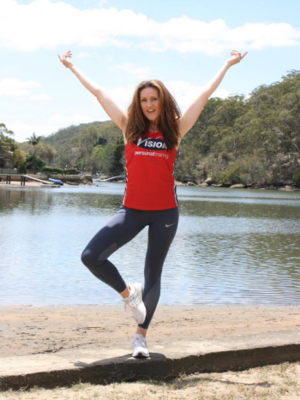 "Birthday suit alternations here!". That's what was written on the red banner outside the Vision Studio, and boy…did mine need some serious "nips" and "tucks"! So, that morning, on the train to work…I googled "Vision Bangor" and sent an "enquiry"! I'd be lying if I said there wasn't a moment where I thought, "oh no, what have I done!" But, it has been the best "oh no, what have I done!", that I have ever "done"! Like most gals…I was finding it difficult to shed the extra weight after having babies. Yes, I would lose a few kilos on my own through "healthy" eating (by healthy I mean sticking to a diet fit for rabbits during the week…then telling myself I could afford to eat that whole pizza on Friday night…I'd "earned" it right?…plus I was starving!), and some light exercise...which was usually a walk or jog with my dog in the evening after feeding the kids (and it didn't take much to convince myself that it was either too cold or too late to go…much to my dogs disappointment). Since joining Vision PT, Bangor…it has given me so much more than just a new "birthday suit". It has taught me all about the number one rule of weight loss…nutrition. You MUST eat to lose weight! Their very important shopping tour taught me how to read food labels properly, so I can find all those hidden carbs…and foods you should include in your diet that I normally would have avoided…there was a whole new world of food unfolding before my eyes!
Food was no longer my enemy…it was my comrade. The seminars held at the Studio are a plethora of information. The Trainers are very well educated in the world of Personal Training. The group classes held throughout the week are the most fun I've had whilst exercising. You train with like minded people of all ages…you make new friends…and they all offer their support during your weight loss journey. Then there's your own Personal Trainer…what can I say…they're angels. They see you at your best and your worst…and all the while…keep you positive and motivated so you can continue on that steady path to achieve "your" goals. I could NEVER have done this without my Trainer.
Since joining Vision, not only has my health improved, but life in general is so much sweeter. I'm doing things I never thought I would do again, or even attempt. Life's fun again! As a consequence of my weight loss journey at Vision, my three boys have been so impressed with my results they have now followed in my footsteps to make nutrition and exercise part of their lives to (which sets them up to lead a healthy life from a young age). Being a role model to my children, is by far my proudest achievement to date. I couldn't ask for any more than that. Thank you, Vision, with all my heart!
Bangor Success Stories
Our holistic approach to emotions, education, eating and exercise has transformed thousands of people across Australia & New Zealand. Get inspired by the journeys of your latest clients.
Are you our next success story?
Give your goals the greenlight and join us. Book your free consult now.