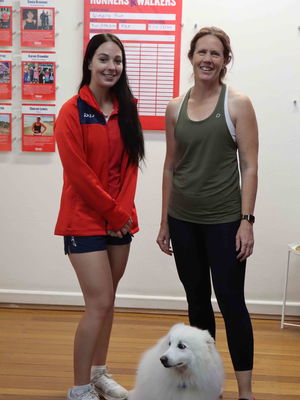 Tell us about your life before joining Vision Personal Training?

My weight had been slowly increasing whilst I was at home with a young family and then more so when returning to work. I wasn't prioritising my health and fitness because I felt I didn't have the time. I was busy trying to balance family and work. I would try and diet or join a gym but just wasn't able to make it work.

What was the state of your health and fitness when you started and what affect was this having on your life?

My weight and fitness concerned me. I wasn't enjoying not being as active as I once was. I was also at increased risk of Type-2 diabetes.
I had started avoiding participating in things like being in family photos and activities. I wasn't really aware that I was making those choices until I started feeling healthier and fitter and then looked back at how my weight gain had been affecting me. My first few weigh ins and BioScan's were a bit of a shock but then when I started losing the weight, I started focussing on the progress that they showed I was making.

What results have you achieved at Vision Personal Training Lindfield?

I have lost 22kg and have kept it off for 3 years. I am now so much stronger and fitter and have run two half-marathons. (I did state numerous times when I first started at the gym ' I don't run')

What did you find was the most useful tool at Vision?

The individualised training sessions and food diary. One-on-one training sessions are based around my goals and Giselle helps me to push further than I often believe that I can. So that I am always making progress. Completing my food diary, helped me to understand the types of food I was eating and the quantity. Keeping my macros in the green zone, means that I am eating the right amount of food to achieve my weight goals. It also helped me develop a habit, so that I am thinking about the type and quantity of food I am consuming.

What impact has your new health and fitness had on your new life?

I have increased confidence. I know that I can set a goal that may initially seem like a challenge and achieve it. I have more energy and am definitely happier. I have had a complete mindset change. I also love being able to choose clothes that I want to wear and go and join in activities without worrying whether or not my fitness level will allow me to do them. I now enter walking, running and obstacle course events and go hiking with friends.

What keeps you motivated?

I regularly set new goals, and my trainer Giselle helps me stick to them. Our training sessions are a good combination of fun and work. I enjoy my new lifestyle, fitness routine and the energy that I now have.

What advice would you give to someone that is currently thinking about taking a positive step towards changing their health and fitness?

Definitely make the decision to put your health and fitness as a priority. You will feel so good about making that initial step. Now, is the right time. I wish I had joined sooner.

If you were to recommend Vision Personal Training Lindfield to your friends, what would you say?

I definitely recommend Vision Personal Training Lindfield. It works. There is also a real sense of welcoming and community, which sets it apart. Regular social events enable you to catch up outside of the gym as well as doing classes together. There is a positive atmosphere, and all successes are shared. All the trainers are onboard with improving your health and fitness. I've achieved and maintained real results and that's due to the support I have received from everyone at Vision Lindfield.
Lindfield Success Stories
Our holistic approach to emotions, education, eating and exercise has transformed thousands of people across Australia & New Zealand. Get inspired by the journeys of your latest clients.
Are you our next success story?
Give your goals the greenlight and join us. Book your free consult now.