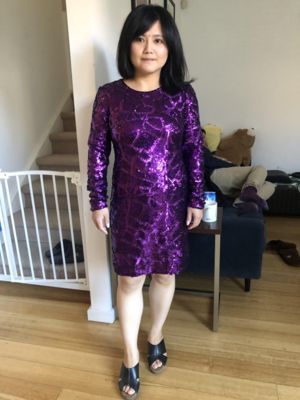 Tell me about your life before Vision?
Last year I had been really stressed and going through a lot, so eating was one of my ways of coping, I stopped caring about myself and that was the reason I kept gaining weight. Until one day, I lost all my confidence when all my clothes couldn't fit any more, I would look at my pictures and I couldn't recognize myself, I was unhappy and that's when I realised, I needed to do something.
What results have you achieved?
I have lost 13kg within 4 months after joining Vision
How has life changed for you?
My confidence is back, my dress size is coming down, I have more energy and I love myself more! I'll never forget that feeling when you have a dress you've had for a while and known you may never fit in it again and you look great and it fits like a glove! When people compliment me how far I've come, It's just the icing on the cake.
What is your favourite thing about training at Vision?
My trainer Lauren, being so understanding and the friendly trainers being so welcoming in a non-intimidating environment, the trainers are always there to support through training and nutrition.
What are some defining moments during your journey?
I couldn't believe that my hard work has paid off after a month; I could see the change on the inside and out.
What advice would you give someone in a similar situation to where you were, and thinking about making a change?
Love yourself first, start training and push your limits, be patient and never give up, trust your trainer during your journey. I can do it and I'm sure you can do it too.
Prahran Success Stories
Our holistic approach to emotions, education, eating and exercise has transformed thousands of people across Australia & New Zealand. Get inspired by the journeys of your latest clients.
Are you our next success story?
Give your goals the greenlight and join us. Book your free consult now.