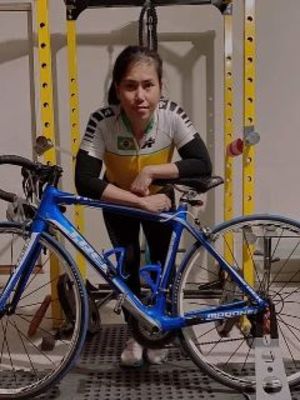 Tell me about your life before Vision?
Before joining VPT Prahran I didn't have a well-structured workout plan which lead to my injuries. In my head I thought I was implementing the right plan which wasn't the case. I often wondered why I wasn't seeing results from my training. The reality was I had no idea that the right nutrition, tracking and hitting your macronutrients played a vital role to your success. This was very eye opening to me!
What results have you achieved?
One of my biggest achievements was the duathlon I completed during the 2020 lockdown. Since I had never ran more than 2km or even cycled once in my 38 years of existence I doubted myself and wanted to pass on the challenge. After speaking with my trainer Mak, he believed that I could do it. Accordingly, he helped me with my Duathlon training plan and as a result, I made it to the second overall women category. I just can't believe how much you can push your body if your mind is willing to do it!
How has life changed for you?
I am now more accountable/responsible to my nutrition and training. I have new perspective about the impact of the proper nutrition can have on your training. Vision is more than just training. It's about education and values!
Tell me about your favourite thing about training at VPT?
One of my favourite things about training in VPT is the support you get from your trainer, Mak is approachable, respectful and helpful. He also finds ways to make sure that I don't miss my training for the week (even if I miss sessions at he studio). Furthermore, I also love the friendly environment which is such a good vibe. When you step inside the studio the feeling is different. Everyone greats one another. Everyone knows each other. Such an encouraging and pleasant community. The smiles of the trainers will make your day. It feels like they are your family.
What advice would you give someone in similar situation to where you were and thinking about making change?
I wanted to improve myself, so I started digging for some information, searching for gyms or studios that were close to my work. I found Vision Personal Training Prahran. They are a complete package when it comes to fitness and a very supportive environment. If you want a gym that really cares about you and is eager to help and motivate you to achieve your goals, then Vision Prahran is a gold mine. Not only did I improve my fitness but my mental health as well. I never felt like I was left alone, lost and wondering what the next move and plan is. When I have doubts, my trainer Mak is just one message a way. Finally, joining VPT Prahran is the best decision I've made! I'm home!
Prahran Success Stories
Our holistic approach to emotions, education, eating and exercise has transformed thousands of people across Australia & New Zealand. Get inspired by the journeys of your latest clients.
Are you our next success story?
Give your goals the greenlight and join us. Book your free consult now.