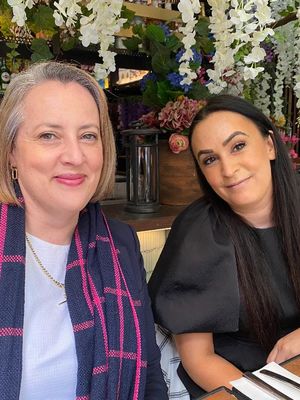 Life before Vision: Life before Vision was all about work and poor choices. I wasn't making any time to look after myself.
What results have you achieved? I am feeling stronger and have more energy. You don't realise what you can achieve when you have the support and guidance of a trainer. I am lifting weights I never thought I could lift. I'm also consistently losing weight each week as well. One of my main goals was to develop a routine – prioritising exercise and eating. Having the support of Lewis and utilising the Vision App has really helped me focus on getting into a routine.
How has life changed for you? Exercise is now a part of my rhythm, and I am really enjoying it. I have also learnt about nutrition and I am making smarter choices when it comes to food. I am also drinking less. Overall I just feel better about myself, I was super critical of my body and the poor choices I was making. Joining Vision has really changed my outlook – thanks Lewis!
What is your favourite thing about training at Vision? Lewis is awesome – He pushes me outside my comfort zone and I really enjoy our sessions. The rest of the Vision team are really friendly and supportive. All of the team know each and every client who train in Prahran. It is a holistic approach – it not just about diet or exercise – you set goals which help keep you focused. The App is great too.
What are some defining moments during your journey? I am not sure – I don't think there has been 1 moment for me. I would say it was easy to introduce this change into my life. It doesn't feel like hard work to achieve results – although if you ask me during a session, I would say its definitely hard work!
What advice would you give someone in a similar situation to where you were and thinking about making a change? It sounds cliché, but don't wait. It took me 4-6 weeks of encouragement from a friend to finally get in touch – and I regret waiting that long. In my workplace, we ask each other all the time what was the best thing you purchased during lockdown, and for me, it was joining Vision.
Prahran Success Stories
Our holistic approach to emotions, education, eating and exercise has transformed thousands of people across Australia & New Zealand. Get inspired by the journeys of your latest clients.
Are you our next success story?
Give your goals the greenlight and join us. Book your free consult now.