Before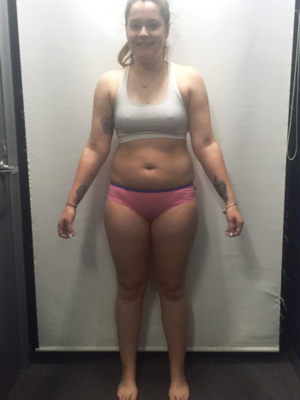 After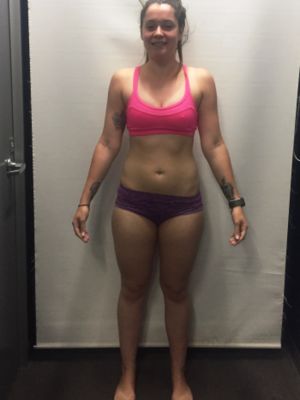 1. Tell me about your life before Vision?
My life before I came to Vision was quite lazy, I remember always having the thought in my head to get back in to my fitness, but I could never find the motivation to actually do it! I would always make excuses and my snacking on junk food was out of control.
2. What Results have you achieved?
I've lost 10kg and 30cm. Completed the Sri Chinmoy 7km fun run all without stopping! I'm so much happier, and fitter than ever before. I've learnt so much about nutrition and how to fuel my body correctly.
3. How has life changed for you?
Firstly, my confidence has improved beyond belief, I am much happier, energetic and I don't have a problem choosing clothes now. The education I've received has improved my health in more ways than just my weight. Now my energy, my skin, my fitness and strength are at an all time high. As I said earlier I am absolutely the strongest and fittest I've ever been in my life. A change in mindset has been very important for me also, I'm less stressed, and always look to the positive side of everything; I'm all together in a much better frame of mind!
4. What is your favourite thing about training at Vision?
There are many things, but firstly having a great Trainer Jesse, who not only helps me physically but mentally and emotionally, and I have a great trust worthy relationship with her as well. I love doing goal sessions, the fact that we have set goals and time frames helps me keep on track and continually motivated. Everyone is so friendly and supportive in the studio, as soon as you walk in it has a great vibe and everyone knows my name and my goal and that doesn't just go for me but for every client who trains here. No one here is negative or spiteful, everyone is here for their own reason but we all support each other and our different goals. There is always an opportunity to be involved in something fun and educational e.g. Fun runs, shopping tours or seminars.
5. What advice would you give someone in a similar situation to where you were, and is thinking about making a change?
Coming from a girl who has always been anxious about starting new things, this has been one of the best decisions I have ever made and I'm never looking back. This is such a great thing to do; the amount of support and educating you receive is one in a million.
Prahran Success Stories
Our holistic approach to emotions, education, eating and exercise has transformed thousands of people across Australia & New Zealand. Get inspired by the journeys of your latest clients.
Are you our next success story?
Give your goals the greenlight and join us. Book your free consult now.