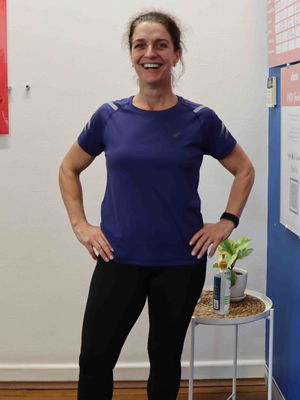 Tell us about your life before joining Vision Personal Training Lindfield?

After dealing with personal challenges for 24 months, which then led into Covid happened, my training came to a stop. I put on weight during 2019-2020 and missed having the gym training to help with strength.

Then, fundamentally in April 2021, my tennis elbow morphed into a bad shoulder and my physio, Marcus Sabella, told me I had to get back to gym and to go to Ibi at Vision as he's brilliant with rehab.

What was the state of your health and fitness when you started and what affect was this having on your life?

I was frustrated at losing strength in general, being injured in particular, and knew I had to lose 5 kgs. Not a massive effect on my life as I was still outside a lot and enjoyed walking the dog etc. but had stopped running.
What results have you achieved at Vision Personal Training Lindfield?

My shoulder is now reliably good (although Ibi is careful with it), my general strength is improving rapidly, and I have started properly running again. Ibi pushed me to do 5km Lindfield Fun Run and then when I couldn't make the actual race that weekend, made me do it on the treadmill the next Monday! He has since managed to get me to do the 10km Real Insurance Run. All with little pressure but gentle and effective prodding.
What did you find was the most useful tool at Vision?

Regular body scans, weekly weighing, personal training sessions - although I do like a 45 mins session! Probably the most useful tool was the consistent training, even during lockdown. The online 2 x weekly sessions we did whilst I was locked down, out of town with my daughter - she joined in too and it was great to keep us both on track. I'm very appreciative of Ibi doing these sessions.
What impact has your new health and fitness had on your new life?

More energy and strength. My clothes look better too.
What keeps you motivated?

Ibi setting me new goals all the time. I'm not allowed to be satisfied with the present - always striving for the next goal!
What advice would you give to someone that is currently thinking about taking a positive step towards changing their health and fitness?

It's worth it. And to preserve. You can feel you are in a rut but suddenly you lose a kilo in one week and it stays off. Or you push yourself to run the extra 1.5km and suddenly you know you can run 8km (even if you walk some of the hills!)

If you were to recommend Vision Personal Training Lindfield to your friends, what would you say?

It's worth it for your health - both mental and physical. I now find myself doing Run Club on Sat am, Revive on Tuesday am and just did my first Group X-train this morning so together with 2 PT sessions and a run on Thursday and interval training after Revive on Tuesdays, I seem to have fallen into 6 days of good exercise a week. No wonder I'm feeling better!
Lindfield Success Stories
Our holistic approach to emotions, education, eating and exercise has transformed thousands of people across Australia & New Zealand. Get inspired by the journeys of your latest clients.
Are you our next success story?
Give your goals the greenlight and join us. Book your free consult now.