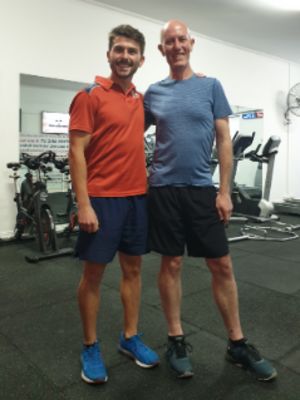 Tell me about your life before Vision?
I was extremely lazy prior to joining Vision. I would go to work & sit at a desk all day, then come home & sit on the couch in front of the TV eating large amounts of all the wrong foods.
What results have you achieved?
In the 4 years since I have been at Vision, I have lost almost 13kg. Because of this, my strength, endurance & physical fitness are the best they've ever been. I have also given up smoking for just over 1 year now.
How has life changed for you?
I no longer feel lethargic like I used to. I've gained a huge amount of knowledge about food & how to fuel my body, and I'm so much more confident in my appearance.
What is your favourite thing about training at Vision?
I love the community vibe, I love that there is no judgement & I love that I'm pushed to my limits each & every time whether in a PT session or group class.
What are some defining moments during your journey?
There has been so many!!! I never ever thought that I would/could run a half marathon, but 1 year after joining Vision I did just that. I also completed the Tough Mudder half course last year, which is something I had wanted to do for a long time.
What advice would you give someone in a similar situation to where you were, and thinking about making a change?
Stop hesitating & do it. Either drop into the studio, give them a call or as I did, book a free consultation online. "It's not the number of steps you take that count. It's what you do with those steps that matters"
Prahran Success Stories
Our holistic approach to emotions, education, eating and exercise has transformed thousands of people across Australia & New Zealand. Get inspired by the journeys of your latest clients.
Are you our next success story?
Give your goals the greenlight and join us. Book your free consult now.