Before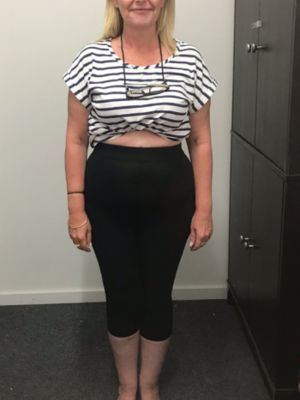 After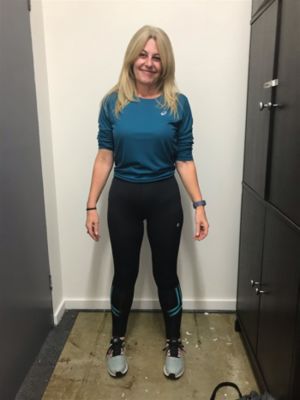 Ingrid is one of the most amazing success stories to ever come out of Vison Drummoyne! We could not do her story justice though, so here it is in her own words.
"In a nutshell, I was overweight and unfit. I didn't have the confidence to start exercising, coupled with the fact that I seriously thought I might have a heart attack and die if I exercised. So, I told myself I was happier on the lounge. I started making excuses to stay in, as nothing fitted me, I was unhappy and embarrassed with myself.
Early this year, I met up with my good friend, Janelle. She mentioned that she would be re-joining Vision, after a 9-month hiatus overseas, for a 9-week challenge. I tagged along for a meet and greet with Jen at Vision Drummoyne.
I did think long and hard about joining for 9 weeks - my brain telling me that this is not my thing, this is not what I do ... and I don't want to die in a gym. BUT I had Janelle as my gym buddy. That was start of my Vision journey.
From the get go, I needn't have worried about walking into this gym and feeling intimidated - to this day, I feel as welcomed as I do each time I walk through the doors as the very first time. The trainers and clientele are all likeminded people - we are all here for a reason - become fit, healthy, stronger beings and to maintain that level.
Now I've done plenty of diets, loads, throughout my lifetime, though I never combined a diet with exercise, ever! Because its 80% diet and 20% exercise, right! Why bother running, when all you need to do is walk, was my mantra. What I found was that when I combined diet and exercise, I was so much more motivated to stick to the diet … FUN FACT: I also found out that I quite enjoy to exercise.
I joined happy to try everything Vision had to offer, but I had one stipulation - I DO NOT RUN. So just don't bother going there with me, because that isn't happening. After a training session, I somehow got caught up with this energy in the studio and ended up following this rather excited crowd out the doors ... it was a Running Club! FUN FACT: I've just registered for my first FUN RUN.
The results that I have achieved is a loss of 15kg PLUS loads of stamina. There are four components I found to be crucial to my weight loss. First being the Vision Food Diary - to be able to keep an eye on the amount of macro's you are consuming or still need to consume in a day, was and still is extremely beneficial for me - no need for second guessing - the diary does all the macro calculations … the numbers are there in black and white (or green!) Second, being the trainers - Meggan has kept me accountable all the way through - she keeps a watchful eye over my diary, she will check in on me on days we are not training and encourages me when I'm doubting myself and it's not just your own PT, it is all of them .. the crew at Drummoyne are an awesome bunch of trainers. Thirdly, the nutrition sessions are invaluable - you always walk away with valuable information that stays with you. Lastly, the Vision community - making new friends and we are all on the same page.
People want to know what has changed in my world, due to the change that they see in me. It's Vision Personal Training - I cannot recommend this place highly enough. It just works!
Congratulations Ingrid, we're so proud of you and can't wait to see what you achieve next!
Drummoyne Success Stories
Our holistic approach to emotions, education, eating and exercise has transformed thousands of people across Australia & New Zealand. Get inspired by the journeys of your latest clients.
Are you our next success story?
Give your goals the greenlight and join us. Book your free consult now.