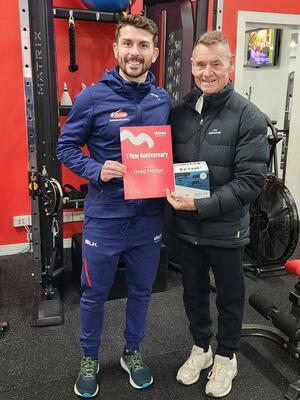 At 75 years young; Greg, the proud owner of the Swim Factory in Cranbourne and previous High-Performance coach with Australia's Olympic Swim Team, proves that age is just a number in the pursuit of health and fitness. With dedication, hard work, and the guidance of his trainer Luke at Vision PT Prahran, Greg continues to inspire everyone around him.

Before embarking on his fitness journey, Greg led an active life, still in the pool teaching young Aussies how to swim, but he felt his strength and fitness could improve, especially when it came to improving the power in his golf swing.

Since starting with Luke in July 2022, Greg has been completing two, sometimes three personal training sessions per week. Each workout is tailored to his fitness level and specific goal of achieving an extra 50m in his drive at golf.

At the start, the workouts focused on building a solid foundation of core strength and correcting any muscular imbalances that has occurred due to a long-term shoulder injury. As the time passed, Greg's strength and endurance increased and cumulated in punching out 10 full push ups on his toes with chest to the floor.

Greg's journey is a reminder that age should never be a barrier when seeking to improve your health and fitness. His success serves as an inspiration all ages to pursue their fitness goals and embrace a healthy lifestyle while also reminding us that staying fit is not just a journey; it's a lifelong commitment to ourselves.
Prahran Success Stories
Our holistic approach to emotions, education, eating and exercise has transformed thousands of people across Australia & New Zealand. Get inspired by the journeys of your latest clients.
Are you our next success story?
Give your goals the greenlight and join us. Book your free consult now.