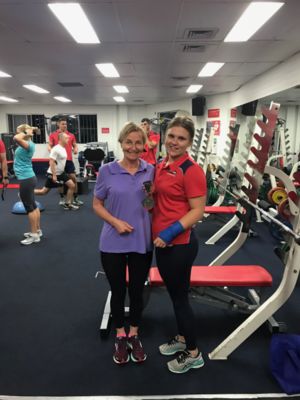 Einstein said something along the lines that if you do the same thing and expect a different outcome then there is the problem.
I joined Vision Bondi Junction Jan2017 after buying a new pair of gym shoes and on recommendation from a conversation at Athletes Foot.
I really appreciate my ability to move, exercise and swimming has always made me happy. Into the abyss I fell doing the same thing and expecting much more. I can now see when you are encouraged and supported amazing things happen. To my surprise when I came to meet Lauren my PT for my first goal session every Trainer knew my name. I think it's great coming up those stairs to be greeted by everyone.
I have never had a goal session before just exercise plans to follow. This has helped the focus on improving my fitness because now I have something to work towards and its measurable at the next goal setting. Working with my Personal Trainer has been for me the key, its keeps me motivated and encourages me to work harder. I love the weekly PT strength sessions, the ongoing goal setting and program changes. I very much appreciate the modification of some exercises to prevent injuries and inclusion of Rehab exercises. The food diary has made an honest eater out of me. Always happy to skip meals before but now trying to eat the correct macronutrients. The cardio group classes are tough and fun and always a push but that is the challenge.
For my first 3 months, I did not have a weight loss goal and just focused on strength and cardio. Then I added a goal to lose 4 kg (thankyou Lauren). It's not a lot of weight in the scheme of things but this has made a huge difference to my fitness and strength. From then on, I have achieved some personal firsts. You are never alone at Vision so everything you do is with the team or your trainer so my firsts are because of you and them. Amazing, first fun run ever, first obstacle challenge Tough Mudder - that was the best experience. Dawn you are amazing (the piggy back section) you Rock - The Spartan Challenge- OMG, should have been called Tougher than Spartan. An incredible day with lovely people. You can only achieve these challenges with a team and the fantastic encouragement and support from everyone. A first Beep test -finished before anyone which is not quite the idea. There has to be something I'm not that keen on and that's the weigh in on Mondays after a foodie and Champagne social or two those grams tell me the story.
My goal is to be the best I can be and I am in the right place to work towards this. I am in awe of the success Vision Bondi Junction has brought to so many members when I read their stories. The advice to try Vision I consider a lucky moment because the people here all have a similar goal, feel comfortable to be themselves and excel. I feel fitter and stronger than I have ever been before and this makes me very happy to be part of a very special place.
Bondi Junction Success Stories
Our holistic approach to emotions, education, eating and exercise has transformed thousands of people across Australia & New Zealand. Get inspired by the journeys of your latest clients.
Are you our next success story?
Give your goals the greenlight and join us. Book your free consult now.