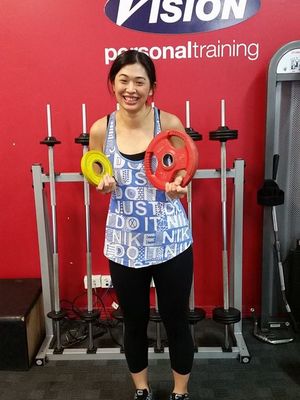 1. Tell us your life before Vision?
My life before joining Vision was one where I felt pretty uninspired about fitness. I was completely aware of the fact that I was becoming increasingly sedentary in the lifestyle that I was leading. I also was eating a lot of take away food or highly processed food. I was gaining weight, but I had no real motivation to do anything about making a change. I had been to a Personal Trainer at another gym, where I was paying money but not really seeing any results, I wasn't feeling motivated to get moving, and there was no fitness plan to help me reach any goals. Even when I requested to change up our sessions, there was no effort by the trainer to make it happen. So, I stopped exercising completely. It was only until I weighed myself one day and saw for the first time in my life, I now weighed over 80 kilos. I knew in that moment looking at the scales, that something had to change.
2. What results have you achieved since joining Vision?
Since joining Vision, I have a lost over 6 kilos (and well below the 80kg mark!), and losing a decent chunk of body fat and also 20cms in body measurements! I used to run, but not be very good at it. Now I am training for a half marathon and then a full marathon by the end of 2017!
3. How has life changed for you?
Life for me has changed dramatically since training at Vision with Luke. I feel strong, healthy and motivated! I still definitely have my moments when I feel lazy, but having my Trainer to keep me accountable is amazing! I feel happier, I am sleeping so much better thanks to regular exercise - as a shift worker, this has been a godsend! My favourite thing about training at Vision? There are so many things that I love about this place! There is this amazing sense of community, where there is always a friendly face to say hello when you walk through the doors. My Trainer Luke has been instrumental in all the successes that I have had whilst training at Vision. He keeps me motivated, and he pushes me constantly! A lot of the time I am making PBs without even realising it. The sessions keep me motivated and Luke keeps me accountable. What is also amazing about the team at Vision is that when Luke was out of action for a while, I was training with both Jesse and Tom. I had never trained with either one of them before, but in no time at all, they knew what I wanted to get out of my sessions, and they knew how to get me to the goals that I had set with Luke. No matter what happens there is this amazing team of Trainers who have your back and will help you achieve whatever you set your mind too. I have never experienced this anywhere else before!
4. What are some of the defining moments during your journey?
Losing 5kg in my first 9 weeks was pretty mind blowing! It just showed me that with consistency and discipline you can achieve what you set out to accomplish!
5. What advice would you give someone in a similar situation to where you were, and is thinking about making change?
If you have ever thought about getting a Personal Trainer or if you want to lose weight or improve your fitness but have no idea how to do it, I cannot recommend the team at Vision enough! For many years, I felt that I had some weight to lose, and that I needed to get motivated to improve my fitness levels. But for one reason or another I never made it a priority. At the end of 2016 I had come to the realisation that if I wanted to change then I was the one who had to make the decision to do something about it, and make the investment in myself. I also realised that despite all of my best intentions I couldn't do it alone, and that where Luke and the team at Vision helped me. They really know how to help people get the best out of themselves, and can often see the potential that people have, often before we realise it ourselves. Joining Vision was honestly the best decision that I have ever made for myself. So, if you are thinking about making a change, do it because the hardest part is making the decision to start, the rest is easy.
Prahran Success Stories
Our holistic approach to emotions, education, eating and exercise has transformed thousands of people across Australia & New Zealand. Get inspired by the journeys of your latest clients.
Are you our next success story?
Give your goals the greenlight and join us. Book your free consult now.