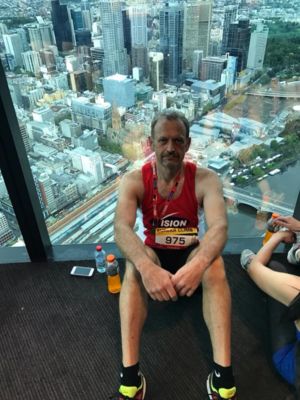 Tell me about your life before Vision?
My life was filled with everything I could ever have wanted - A partner whom I adored and who loved me, two healthy and beautiful teenage daughters, amazing family, a huge friendship group, a lovely home, a successful career, heaps of travel and most of all I was happy!
However, it was all turned upside down with the sudden death of my partner in April 2011. A tear to his aorta ended his life and changed ours forever. My partner Zoran and I led identical lives and I came to feel that if this could happen to him it could also happen to me. Zoran was a fit 40-year-old man; however, I was 49 and overweight sitting at 107kg.
The following months resulted in a 9kg weight loss due to grief.
Feeling more and more depressed and coming to terms with our tragedy, I joined Vision in August 2011 - at which point I weighed 98kgs. It was the lowest point in my life and joining Vision was an important step towards my recovery from grief and towards better health.
What results have you achieved and what are some defining moments during your journey?
My greatest results come from feeling better about my life, and knowing I can achieve anything I put my mind to. I lost 24kgs in 15 months. Running 5km in 22.38secs the same year and then beating my Trainer by 25seconds in the Eureka Climb - 88 floors in 14.05secs.
How has life changed for you?
It has been very positive. I am in a better place than when I walked in six years ago. I am happy with my health and fitness. My weight has stabilized and I have little to no joint pain.
What is your favourite thing about training at Vision?
Run Club and competing in different events with other members. The friendly environment. The one-on-one experience and constant support.
What are some of the defining moments during you journey?
The realization that I can achieve whatever I put my mind to.
What advice would you give to someone in a similar situation to where you were?
To be honest with yourself. Knowing that small steps lead to achieving your goals.
To like who you see in the mirror and if you don't, then you should change it. To feel good about yourself.
To set long-term goals. I set mine for ten years. I was fitter, stronger and healthier at 50 than I was at 40. Now I will do the same working towards 60
Prahran Success Stories
Our holistic approach to emotions, education, eating and exercise has transformed thousands of people across Australia & New Zealand. Get inspired by the journeys of your latest clients.
Are you our next success story?
Give your goals the greenlight and join us. Book your free consult now.