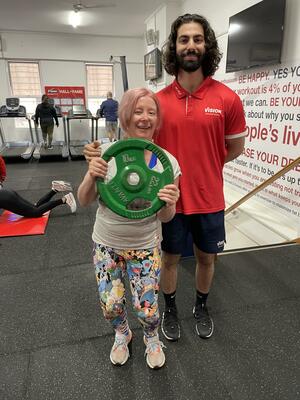 I'm feeling stronger and healthier than I have in over 15 years. My eating habits have changed, yet I don't feel like I've had to deprive myself of anything. My relationship with alcohol was something I needed to address, and as I gradually opened myself up to the practical information and gentle life coaching from Samir (my trainer), I've been able to break the daily drinking cycle again without feeling like I'm missing out.

A recent full physical checkup with my GP showed that I'm well and truly on the right path to achieving optimal health. Honestly, it's a miracle, given my previous lifestyle. I've also made some great new friends, not just among the clients but also among the trainers.

When I first started with Vision PT, I was reluctant to focus on cardio exercises and would get out of breath even on a brisk walk. Again, after some gentle easing into it, I am able to complete a 4-5km walk and really enjoy the 30-minute X-training group training sessions and 60-minute boxing sessions.

I'm gaining muscle, joint strength and stability every week, and having dropped a clothing size so far, I have been able to donate a whole wardrobe of clothes to charity, knowing that these improvements are permanent.

I now make a conscious effort to plan my eating and exercise schedule for the coming week, which reduces the temptation to grab fast food or order in. I find that planning actually gives me more flexibility. Oh, and suddenly, I prefer to get out of bed two hours earlier than I'm accustomed to, even on weekends. Who even am I?

It's fun to see my cheekbones and jawline become more prominent too. I now realise that for some years, I had been 'playing in the shallow end' of life and, in many ways, had surrendered to being half the person I really am—emotionally, spiritually, and physically.

I'd say my biggest milestone has been dropping close to 10 kg in a healthy, manageable way over the past six months.

Also, taking a break from alcohol has shown a reduction in my visceral fat, which is of utmost importance to me as I'm approaching the age at which my mum died due to heart disease.

There are many things I enjoy about training at Vision (it's a Libra thing). Vision is an environment where I feel completely comfortable and am never judged. In fact, I feel very much supported by all the trainers as well as my fellow clients. Likewise, I love to hear about the success stories of others. There is a culture of friendliness, respect, and safety.

Having joined so many gyms over the years, what impresses me about Vision is that there is no cookie-cutter attitude. They are not content with just taking your money and throwing in a couple of PT sessions; then you're on your own, with no one checking your form or encouraging you to stay on track.

Samir works with me on every aspect of my health, modifying my exercises when needed and increasing the intensity when he is 100% certain I'm ready for the next step. If only he liked Star Trek.

I appreciate the weekly goal-setting because it makes me want to take charge of my life choices.
Prahran Success Stories
Our holistic approach to emotions, education, eating and exercise has transformed thousands of people across Australia & New Zealand. Get inspired by the journeys of your latest clients.
Are you our next success story?
Give your goals the greenlight and join us. Book your free consult now.